Aberdares Hiking, Kwa Matu to Table Mountain
Summary
| | |
| --- | --- |
| Distance from Nairobi | About 155km |
| Starting Point | Kwa Matu centre |
| Ending point | Table Mountain |
| Walking Duration | 5 hours |
| Terrain | Forest trails and boggy moorland |
| Difficulty | Moderate |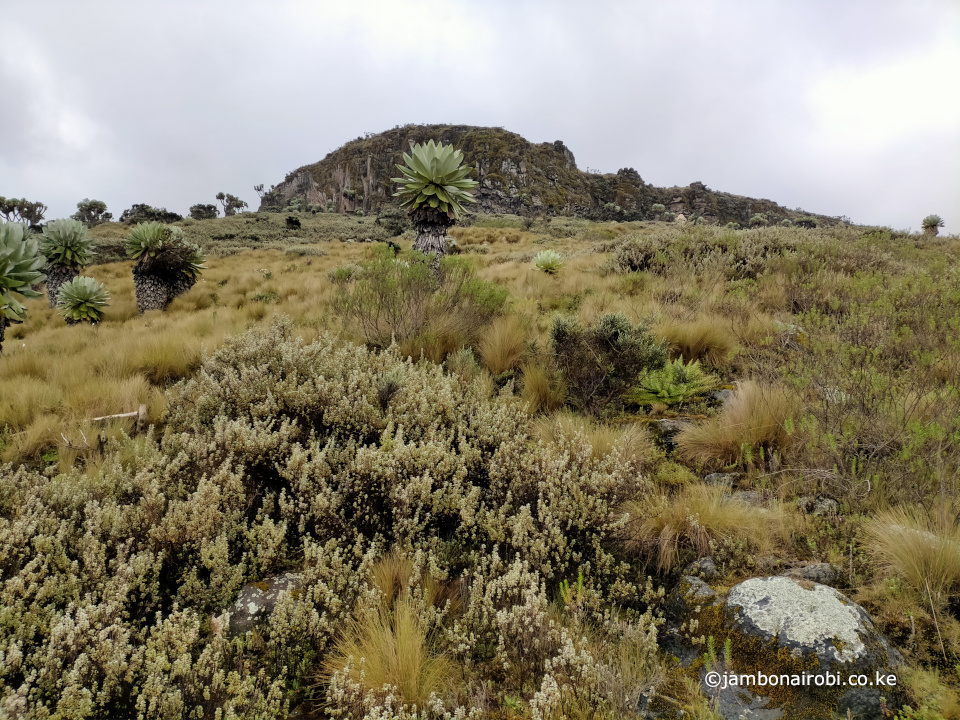 Hiking up Table Mountain from Kwa Matu is a delightful nature walk through a montane forest, a forest glade brimming with colourful wildflowers, an outdoor gallery of rock sculptures, and an outlandish afro-alpine moorland. The dazzling array of nature's wonders on this trail distracts you from the formidable ascent you have to negotiate, to gain the lofty 3800m altitude of Table Mountain in the Aberdares Ranges, in a relatively short distance. For the historically inclined, there is the bonus of getting a birds-eye view of the infamous Happy valley, ensconced between the Aberdares Ranges and Mt Kipipiri.
Route Description
With a total round trip distance of 11km and an impressive 1,000m elevation gain, this trail is moderately challenging. The starting point at Kwa Matu centre in Wanjohi valley is at 2770m above sea level. Right off the bat, you'll go down a steep descent to a river crossing, and enter through the forest electric fence right next to the riverbank. This is immediately followed by a steep 350m climb out of this valley through a Montane forest.
The trail levels off after about 1.5km onto open fields of wildflowers and natural meadows that will entice nature lovers to linger. Looking back down on the placid Wanjohi Valley spread below, it's easy to drift back in time to the 1920-30's when the valley was the epicenter of British colonial decadence. Lady Idina Sackville comes to mind, presiding over wild parties where wife swapping was commonplace among the aristocrats and wealthy settlers christened the Happy Valley set.
Having shaken yourself free of this reverie, you notice a grove of Hagenia Abyssinica trees at the other end of the glade, the unique Protea, the national flower of South Africa, and a myriad of other equally stunning wildflowers.
A little past the grove of Hagenia Abyssinica and a stream-crossing, the trail turns rocky and steep as you skirt around dramatic cliffs to your left, with an interesting assortment of rock sculptures drawing your gaze in amazement at this stunning landscape. Past this rocky section, you'll get to a vertical bog on the moorlands, covered in Tussock grass, alpine plants like Giant Heather, and adorned here and there with the scarlet flowers of Mackinder's Gladiolus, ostrich-plume Lobelia and tree Groundsel. Table Mountain eventually comes into view up ahead, as the trail gradually levels off. The rest of the way is an easy stroll as you approach your destination from the right hand side, and scale up a few rocks to get to the plateau.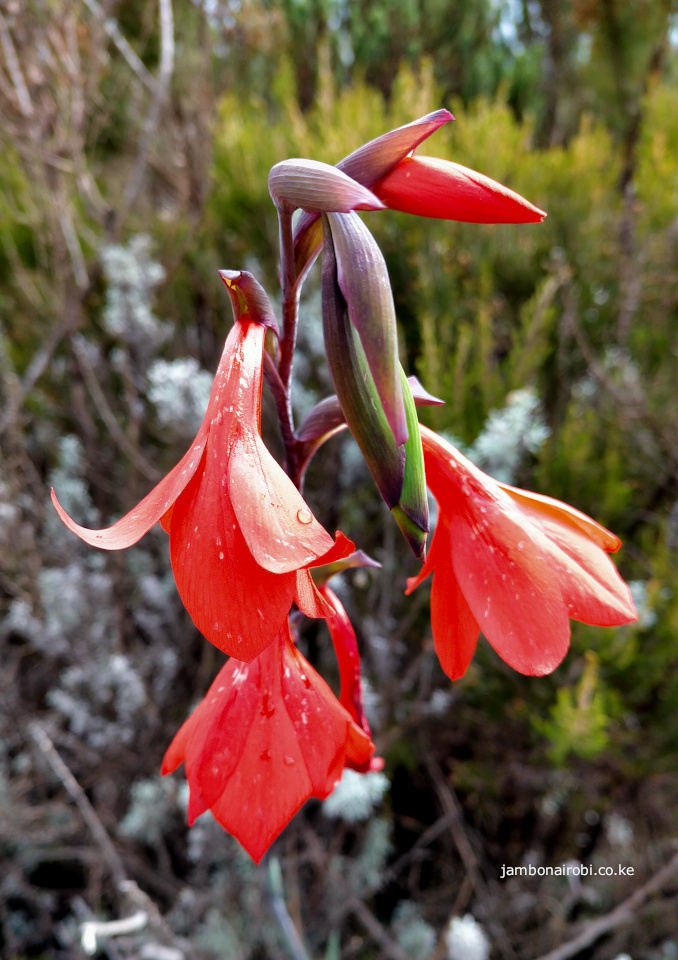 If you take the time to walk around the Table Mountain plateau, you'll be rewarded with previously hidden fantastic views of deep valleys and plunging cliffs scarring the Aberdares moorlands as far as the eye can see. You can also see the shimmering Lake Ol Bolosat northwest of the Aberdares Ranges, and Mt Kinangop in the southern part of the Aberdares moorlands.
Getting There
If using public means, take Ndunyu Njeru matatus from the Old Nation House roundabout. After making the necessary payments at the KWS office at Ndunyu Njeru, you can get local matatus going to Kwa Matu.
If driving from Nairobi, use Nakuru Road on the upper escarpment for about 60km to a place known locally as flyover. Go over the flyover, then a few meters on, turn left at the next junction and drive about 24km to Njabini town. Turn left onto Ol Kalou Road and drive past Engineer to the KWS office at Ndunyu Njeru. After making the necessary payments, drive on towards Ol Kalou for another 30km, then turn right onto the road to Kwa Matu Centre, about 10km from the turnoff. The last 4km is a rough murram road, though generally motorable by 2WD.
The total distance from Nairobi to Kwa Matu is about 155km.
Accommodation
Belo Canto campsite at Kwa Matu. Call Mr Kamanu in advance on 0734876024 or 0786178291. Alternatively, ask the KWS rangers to contact him for you.
Guide
KWS rangers.
Entry requirements
http://kws.go.ke/content/park-fees-and-accommodation
Call either Corporal Rago (0791 956226) or Anthony (0707 572673), both based at the KWS office at Ndunyu Njeru to make arrangements for an armed ranger, and settle park entry fees. Only M-Pesa mobile payments are accepted.
Safety