Ol Donyo Orok, Enkamuka Peak
Summary
| | |
| --- | --- |
| Distance from Nairobi | About 155km |
| Starting Point | Baboon Camp, Maili Tisa |
| Ending point | Baboon Camp, Maili Tisa |
| Walking Duration | 7 hours |
| Terrain | Dirt trail through thickets and forest. |
| Difficulty | Moderate |
Enkamuka peak, the second highest on Ol Donyo Orok according to local guides, can be accessed from Maili Tisa centre on the eastern side of the mountain.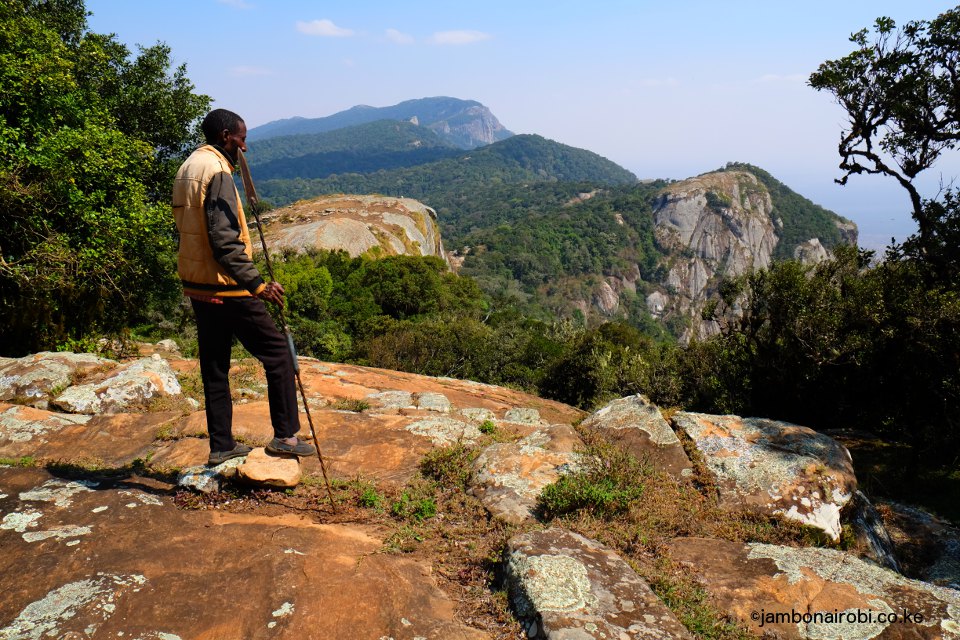 The trail to this 2,308m high summit is characterized by dramatic changes in vegetation as you get higher, a steep escarpment with great views to one side, and a tree climbing lesson, on pain of death. This side of the mountain, like the western side, also has numerous caves sheltered by massive boulders scattered throughout the deep forest cover.
Route Description
The trail to Enkamuka peak starts from Baboon Camp, about 2km from Maili Tisa town on Nairobi Namanga Road. The vegetation is initially dryland bushes as you make your way from 1300m asl to about 1900m asl. It then gradually transforms to a cool tropical forest, complete with Spanish moss hanging from tree branches. The trail meanders for some distance along the edge of a steep escarpment to the right, with a magnificent view of a high bare cliff face up ahead, across a deep valley.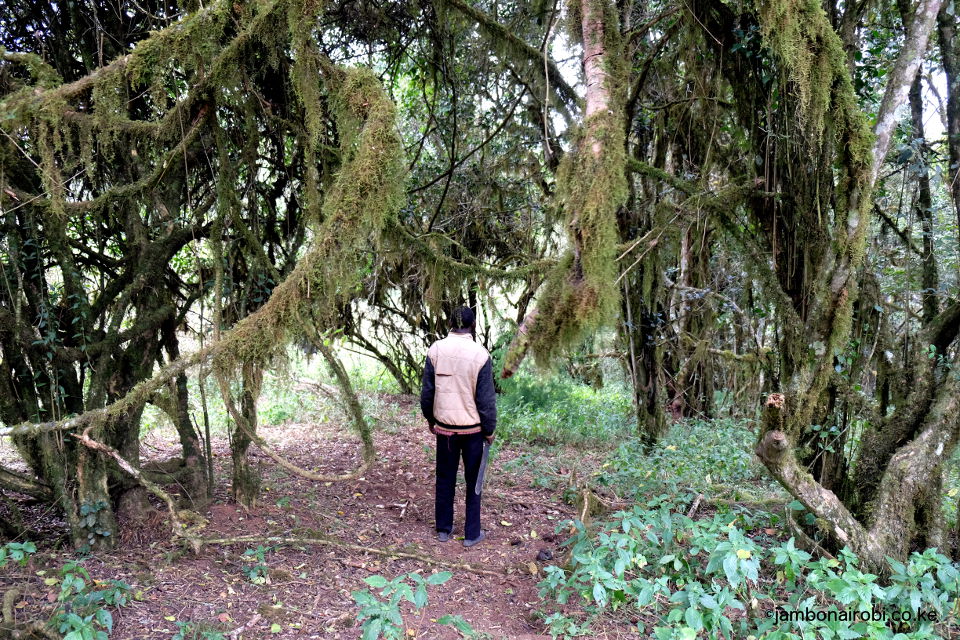 At some point, the trail breaks out of the forest cover onto a marshy glade that is home to a Buffalo herd that spends the night here. A small trickle of water from mountain springs courses its way across rock slabs protruding from the ground on the glade. You will notice your guides peering cautiously at every bush and trail leading out of the glade, in case there are buffaloes nearby.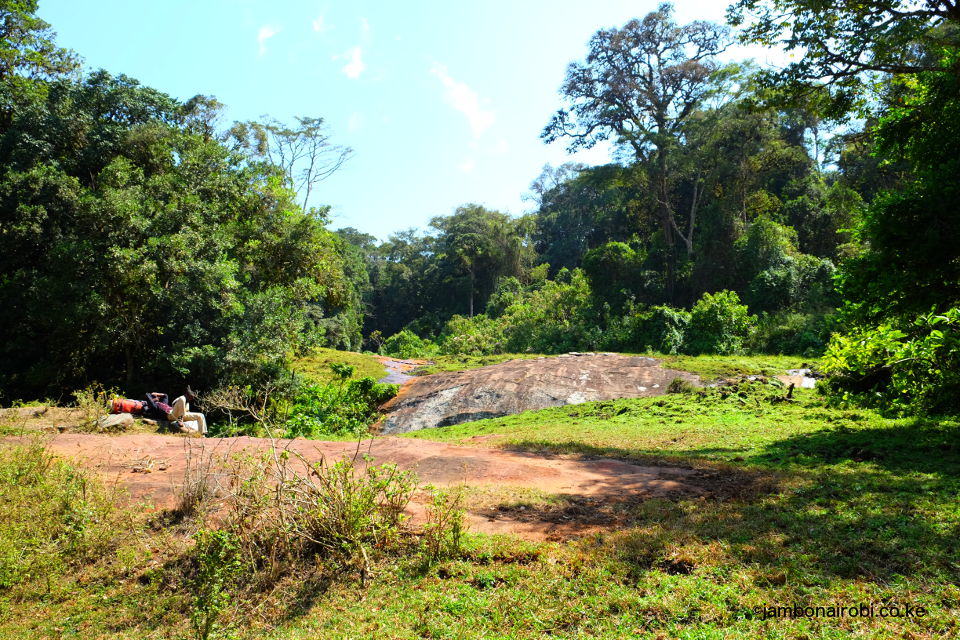 Past this point, the forest cover gets thicker, with a higher chance of buffalo encounters. Apparently, these herds have no natural enemies, and have therefore grown pretty large and aggressive. If you don't know how to climb trees in a hurry, you'll have to polish up those skills, if you wish to avoid a date with your maker.
Due to infrequent use, the trails in this area get overgrown, with the guides having to hack their way through the undergrowth. They cut marks on trees along the way, to help identify the trail on the return trip. They also stop frequently to listen for sounds of large animal movements. (On a couple of occasions, the guides and the author had to quickly scramble up trees after accidentally getting too close to an irate buffalo which turned round and started charging. While the experience was exhilarating, it could easily have gone all wrong).
An expansive rocky section finally comes into view above the tree line. Enkamuka peak is one of the rocky outcrops to one side. The commanding views of the other high points on Ol Donyo Orok, the plains below, and the top of the forest canopy from the peak, is a sight to behold.
A short 10min descent from the peak is Enkamuka cave, one of many other caves in the vicinity. It is the largest of them, with a small seasonal stream that flows nearby. Hence it's use my Maasai Morans during their rites of passage in the forest, and hikers for overnight camping.
The hiking distance from Baboon Camp to Enkamuka peak is about 9km with an elevation gain of 1,050m, and takes about 4hrs to climb, and 3hrs to descend.
Getting There
If using public means from Nairobi, take Namanga Matatus from the junction of River Rd and Ronald Ngara St near OTC. Alight about 15km before Namanga town at Maili Tisa centre, where you'll meet your guide.
If driving, use Mombasa Rd and turn left at Athi River junction onto Namanga Rd. Go past Kitengela, Isinya and Kajiado until Maili Tisa centre, where you will meet your guide. Total driving distance is about 155km from Nairobi City Centre.
Guide
Jonnah Ole Millia – 0712252574
While the local guides often doesn't co-opt the help of armed Kenya Forestry Service (KFS) personnel, it might be wise to ask them to arrange for armed escort. It costs extra, but considering the risks you face on this mountain, that precaution could save you from a deadly encounter.
Accommodation
Camping is optional, since the hike can be done in a single day. Should you choose to camp, there are no serviced camps on the mountain. Water can be fetched from small streams near some of the caves, or from swamps in the forest. You may need to bring drinking water with you, since these local waters can be murky. You'll also need to bring tents and any other camping equipment you may need.
Confirm with your guides if they are able to make their own accommodation and food arrangements. They often fail to ask for your assistance with these matters, and assume you will provide these requirements.
Entry Requirements
You will be advised by your guide on the fees applicable for hiking on the mountain.