Mt Kenya's Great Lakes Tour
Ensuring Safety Outdoors
Summary
| | |
| --- | --- |
| Distance from Nairobi | About 270km |
| Starting Point | Rutundu Road Head |
| Ending point | Lake Michaelson |
| Walking Duration | 5-6 days ( for round trip) |
| Terrain | Mostly rocky terrain, with sections of alpine scrublands, and patches of tussock grasslands. |
| Difficulty | Moderate. |
Whichever route you use when climbing Mt Kenya, you can't miss sighting a lake or two. Perhaps you've wondered how many of these there are on the mountain.  Over 25 lakes dot Mt Kenya's varied landscape, contrasting sharply with it's neighbour, Mt Kilimanjaro, 300km south.
Thanks to their remote location northeast of the mountain, the top four, Lake Alice, Lake Michaelson, Lake Ellis and Lake Rutundu offer blissful solitude for the few who venture on this great lakes tour. Stories of romantic retreats by royalty at Lake Rutundu, explorers of yore stumbling across Lake Alice while looking for mythical creatures, and a whirlpool beneath Lake Michaelson, add to the allure of these great lakes.

Journey to Lake Rutundu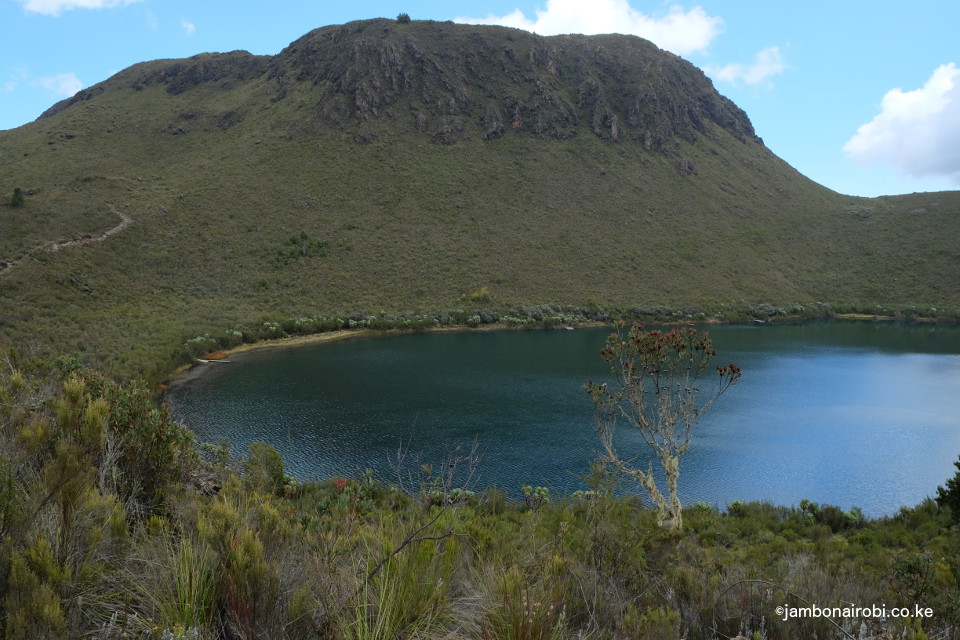 Lake Rutundu, situated in a crater at the base of the flat-topped Rutundu Hill, is the forth largest of Mt Kenya's great lakes at an altitude of 3100m, and the farthest from the peaks. It got a lot of media attention in 2010 when UK's Prince William proposed to Kate Middleton while on holiday at this location. Activities in the vicinity include Trout fishing, boat riding, and hiking in the surrounding landscapes. This eloquent description of Rutundu by another visitor might give you a better sense of what to expect.
One approach to Lake Rutundu and the other great lakes is through a 35km dirt road branching off Nanyuki-Meru road at Kisima junction, to Rutundu road head. Driving over this road may take you about 4 hours. For the wealthy, there is an airstrip 1.5km from Lake Rutundu, and a Helicopter landing space 100m from the Lake, enabling easy access by air.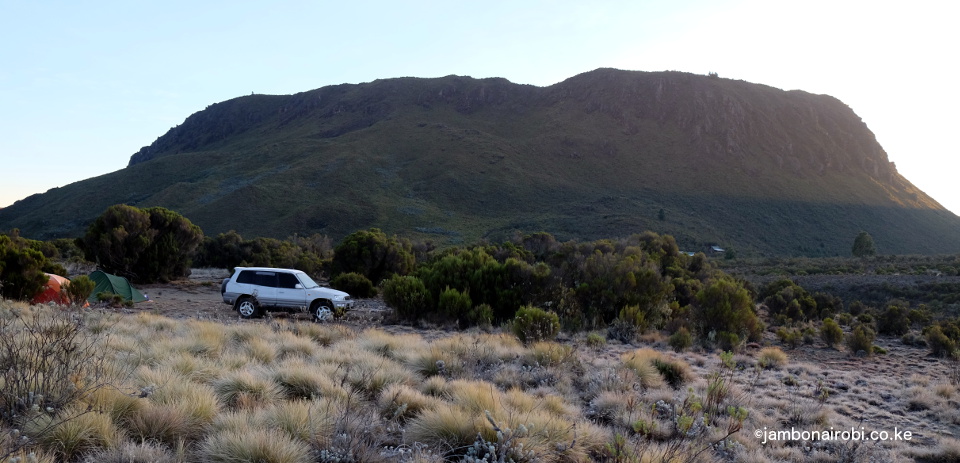 Once you get to the road head, you can pitch tent at a designated campsite a short distance from the car park, with easy access to the river. Alternatively, you can stay in the Rutundu Log Cabins across the deep Kazita river valley. The owners of Lewa Conservancy operate these cabins facing Lake Rutundu, providing a secluded holiday getaway.
Return to top

From Lake Rutundu to Lake Alice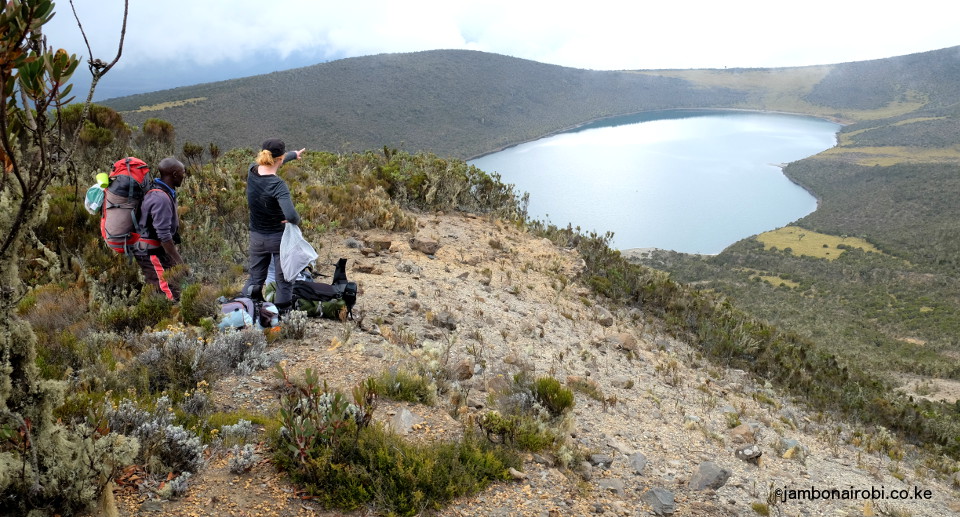 Perched in a crater on Ithanguni Hill, northeast of the main peaks, Lake Alice at 48 acres is the largest of Mt Kenya's great lakes at an altitude of 3550m. Kenneth Gandar-Dower, accompanied by Raymond Hook, discovered it in 1935 while on his search for the mythical Marozi, the spotted lion. Princess Alice, the Duchess of Glouchester, had attempted climbing Mt Kenya the previous year (1934), but was forced to retreat at 4300m by adverse weather conditions. The lake was therefore named in her honour, following her visit to the mountain, and marriage to Prince Henry that same year.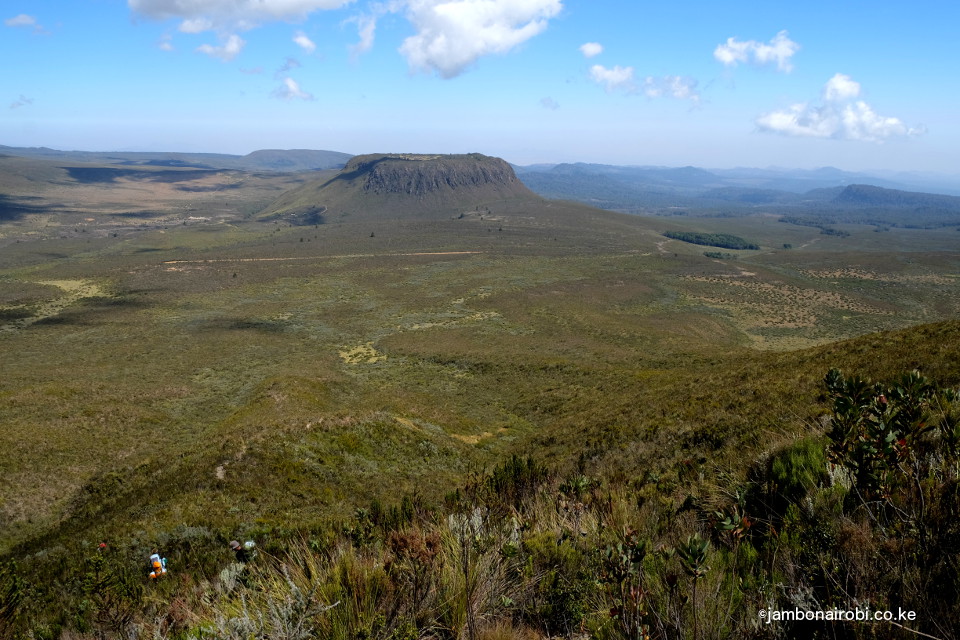 Hiking from Lake Rutundu to Lake Alice will take you about 2 hours, mostly uphill through a well-worn trail cutting through Protea and Giant Heather bushes. Along the way, you'll get clear views of Mt Kenya's main peaks in the distance. The trail finally crests on a section of the crater rim covered in tussock grass.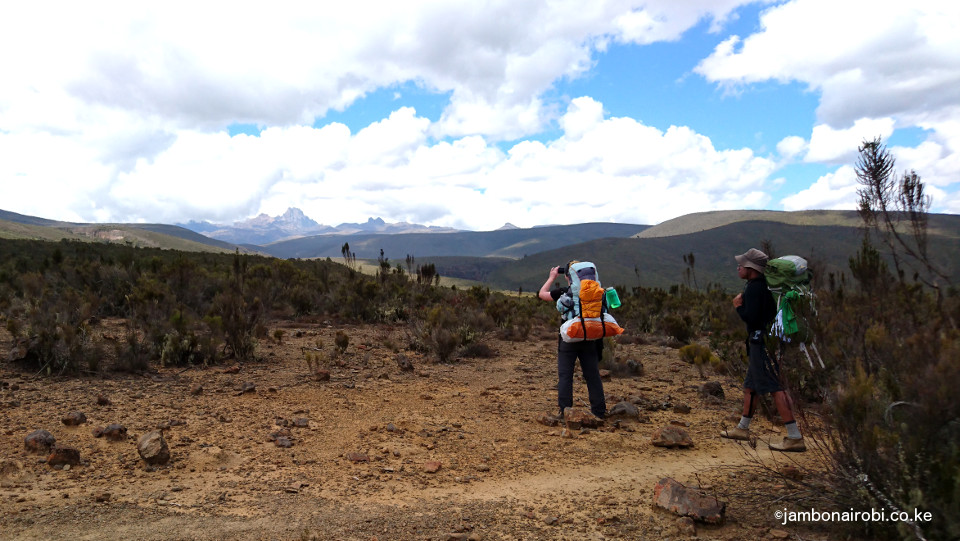 While the near side of the crater around Lake Alice is a smoothly rounded low ridge encircling two thirds of the Lake's circumference, the far edge is a high cliff with a bare rock surface soaring to 3850m. In morning light, this imposing cliff's reflection on the Lake's calm water surface goes through a magnificent transformation as the rising sun's rays first bathe it's rightmost end, then advances slowly, eventually engulfing the whole wall.
Return to top

Lake Alice to Lake Ellis
Situated below Mugi Hill, northeast of the main peaks, Lake Ellis is the third largest lake of Mt Kenya's great lakes at 28 acres, after Lake Alice and Lake Michaelson. It was named after Thomas Evelyn Scott-Ellis, 8th Lord Howard de Walden, who accompanied Eric Dutton on his first visit to this Lake in 1927. Today, it has become a popular fishing spot, as well as one of the stopovers for hikers heading to the summit through Chogoria Park Gate.
The descent from the heights of Lake Alice on Ithanguni initially goes in a southbound bearing over alpine scrublands, rocky terrain, and patches of treacherous tussock grasslands without any discernible trails. After three hours of tedious bushwhacking, tripping over roots and clumps of grass, fleeting views of the impressive Giants Billiard Table start emerging whenever the fog lifts. Soon after, you break out of the bushes onto a rough road piercing the depths of Mt Kenya from Nkubu town to Chogoria road head. A local politician, Mr Kiraitu Murungi, championed construction of this road to open up tourism for Meru County.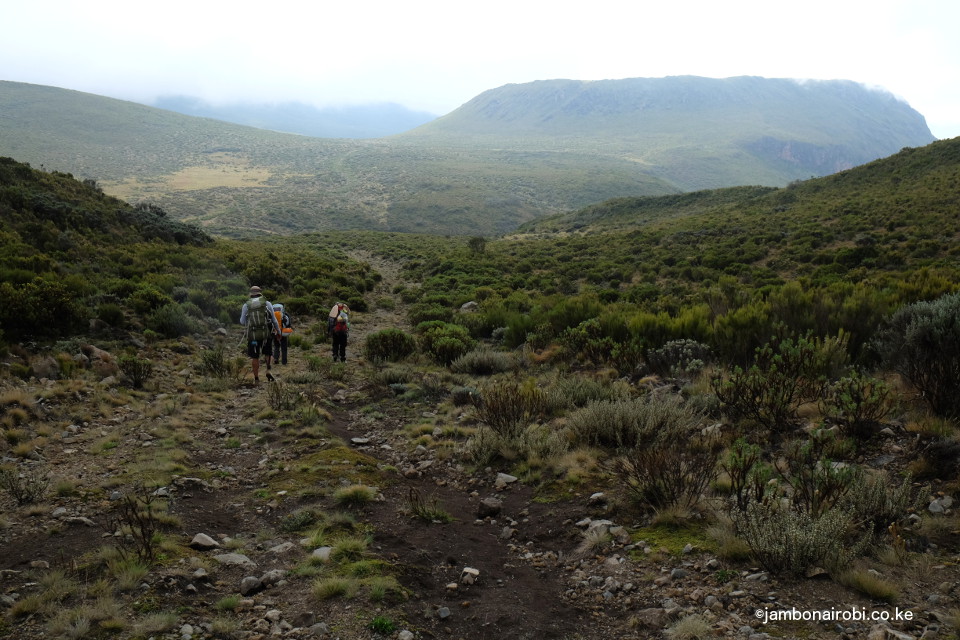 After taking a right turn onto this road, you'll descent to a seasonal river crossing, and then climb the first of many gentle ascents past the base of the Giants Billiard Table. After another descent to a permanent river crossing, you'll make another ascent as you skirt around Mugi Hill, till you get to a third river crossing at the junction between this road and the road from Chogoria road head to Lake Ellis. From here on, it's a short but continuous 2km climb to the shores of Lake Ellis at an altitude of 3470m. The complete hike from Lake Alice to Lake Ellis will take you about six hours over a distance of 13km.
Return to top

To Lake Michaelson
Framed by the 300m high Temple to one side and another similarly high cliff on the other edge, this stunning lake at the head of Nithi River in Gorges Valley is the second largest of Mt Kenya's great lakes at 30 acres. The views of Mt Kenya's highest peaks from this lake are unparalled anywhere else on the mountain.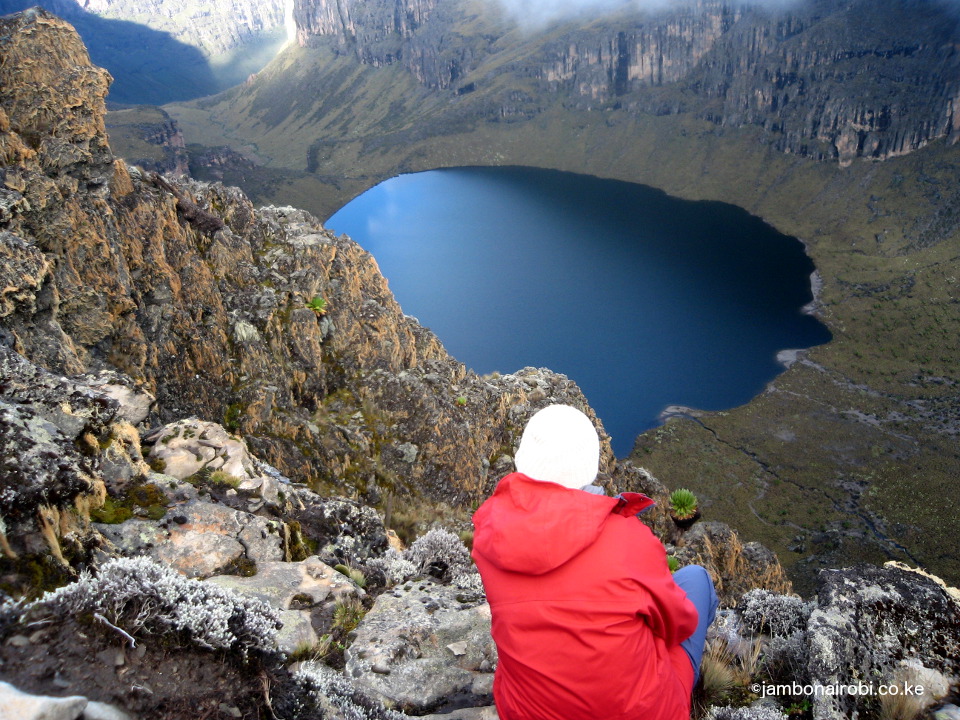 From the Temple above, the views of this lake below are also to die for. Halford Mackinder, the first white explorer to summit on Mt Kenya, named this lake after his friend who had shown much interest in the organization of his 1899 expedition.
Following a plane crash some years back at this lake, local guides claim that divers on the subsequent search and rescue mission established its depth to be over 70m. It is claimed that they also found a whirlpool in its depths, presumably caused by an underground river fed by the lake.
From Lake Ellis, the hike to Lake Michaelson follows the Hinde Valley as you gradually climb to a rocky section above the Vivienne Falls viewpoint, where it crosses the regular Chogoria route to Mintos Hut. You then go down a steep descent into the Gorges Valley above Vivienne Falls, onto the shores of Lake Michaelson at 3950m. The whole stretch from Lake Ellis takes about 6 hours to hike.
Return to top

Lakes & Tarns on Mt Kenya by Size
From Google Maps
| | | |
| --- | --- | --- |
| 1 | Lake Alice | 48 acres |
| 2 | Lake Michaelson | 30 acres |
| 3 | Lake Ellis | 28 acres |
| 4 | Lake Rutundu | 25 acres |
| 5 | Lake Hohnel | 21 acres |
| 6 | Carr Lakes | 20 acres |
| 7 | Enchanted Lake | 10 acres |
| 8 | Teleki Tarn | 8.72 acres |
| 9 | Hidden Tarn | 7.82 acres |
| 10 | Hall Tarns | 4.89 acres |
| 11 | Hut Tarn | 4.55 acres |
| 12 | Oblong Tarn | 4.19 acres |
| 13 | Thompson's Tarn | 3.90 acres |
| 14 | Emerald Tarn | 3.18 acres |
| 15 | Lewis Tarn | 2.85 acres |
| 16 | Hausberg Tarn | 2.63 acres |
| 17 | Gallery Tarn | 2.63 acres |
| 18 | Hanging Tarn | 2.61 acres |
| 19 | Nanyuki Tarn | 1.72 acres |
| 20 | Tyndall TArn | 1.29 acres |
| 21 | Polish Man's Tarn | 1.02 acres |
| 22 | Kami Tarn | 0.72 acres |
| 23 | Harris Tarn | 0.59 acres |
| 24 | Simba Tarn | 0.46 acres |
| 25 | Square Tarn | 0.22 acres |
| 26 | Lower Simba Tarn | 0.21 acres |
Safety
Ensuring Safety Outdoors
Getting there
You'll need a 4WD vehicle with a high clearance to get to Rutundu road head. From Nairobi, use Thika Road towards Nyeri. About 12.5km past Karatina town, turn right onto Nanyuki Road, and keep going past Nanyuki and Timau. 40km past Nanyuki, turn right onto a dirt road at Kisima junction with a signpost for Kenya School of Adventure and Leadership. The distance from this turnoff to Rutundu road head is 35km. Lookout for a right turn into the forest, and a signposted left turn to Rutundu. From here on, the road gets pretty rough.
Guides
Mutwiri – +254 (0)725 722347
Benson Kinaro +254(0)721 642553
Entry Requirements