Oldoinyo Lengai, the Western Trail
Summary
| | |
| --- | --- |
| Distance from Nairobi | About 490km |
| Starting Point | Northwestern trailhead, 1hrs drive from World View campsite |
| Ending point | Same as above |
| Walking Duration | 12 hours |
| Terrain | Mostly steep treacherously unstable bare surface interspersed with deep gullies and ravines. |
| Difficulty | Extreme |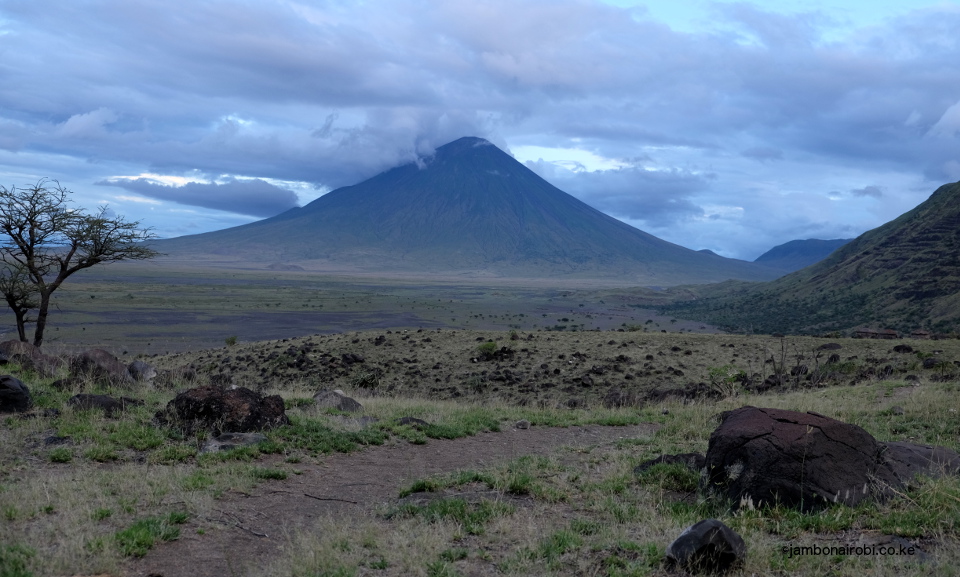 Oldoinyo Lengai is an extraordinary active volcano in a remote corner of Northern Tanzania. It's eruptions freeze in mid-air within seconds of bursting from the earth's bowels, only to shatter and rain down like hailstones on the surrounding landscape.
Whereas other volcanoes spew silica-rich basalts that glow red as they flow down the mountain slopes, Oldoinyo Lengai is apparently the "only active volcano on Earth that erupts with a carbonatite, a type of igneous rock rich in carbonates such as calcite and dolomite"; black when it emerges, and rapidly turning into a grey dust. This unique nature of Oldoinyo Lengai attracts great interest from geologists, and lately from hiking enthusiasts as well. Some consider climbing this mountain dangerous, a view that only makes the endeavour more exciting for adventurous souls.
The Day Before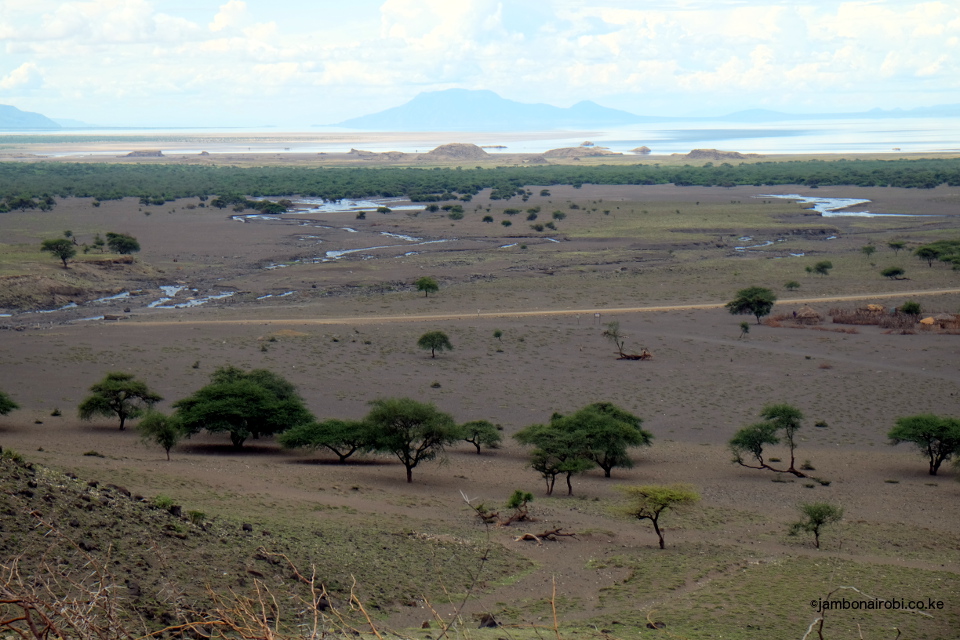 The base for taking on Oldoinyo Lengai are various campsites perched on a plateau looking down on the nearby Maasai village of Engare Sero and Lake Natron further on.
A surprisingly pleasant pre-amble to the climb is a 30min riverine walk upstream from the campsite to Engare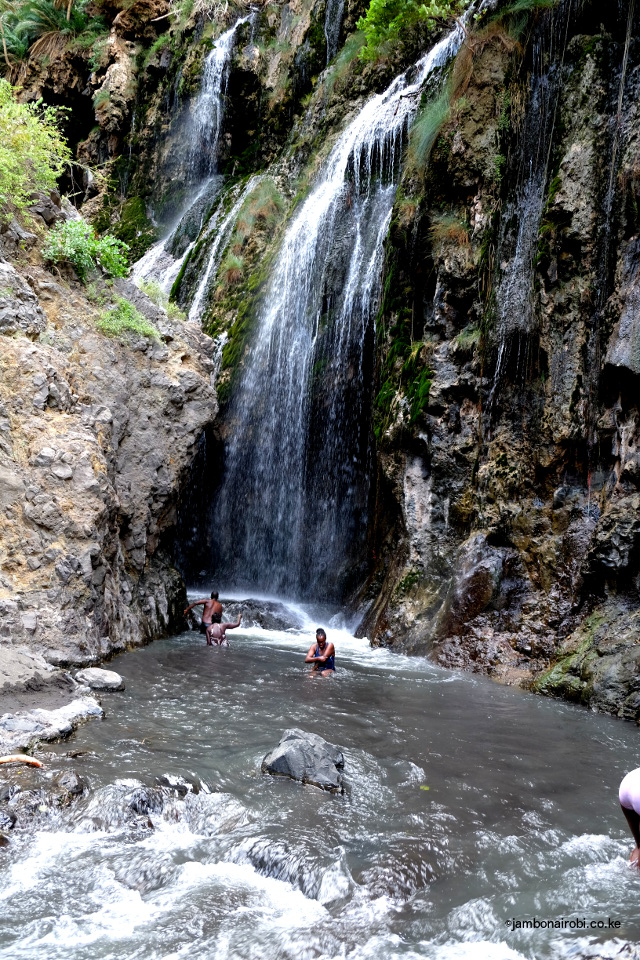 Sero waterfall. The river narrows down in some sections, with plunging cliffs necessitating wading knee-deep through the fast flowing water. In other sections, you have to climb rocks framing the river, and edge slowly on narrow ledges past furiously churning rapids on the river below.
As you approach the waterfall, lush tropical palm trees along the riverside provide a magnificent backdrop to the torrents tumbling over an overhanging rock. A swim in the pool below the waterfall offers an enjoyable respite from the sun. If you climb the small step above the pool, you can stand directly under the waterfall. Stepping behind this water curtain takes you into a short semi-covered ravine that leads to a natural Jacuzzi 20m ahead, complete with warm water cascading down another rapid at its head.
If you still have time, a drive or short walk to the shores of the alkaline Lake Natron, teeming with the lesser Flamingos, is another interesting activity to undertake. You could also go on a cultural tour of the Engare Sero Maasai Village on the Lake's shores. 
The Western Trail
Oldoinyo Lengai climbers typically start off at midnight to avoid the blazing tropical sun and hopefully summit at sunrise. You'll be driven from the campsite to the trailhead on the northwestern side of the mountain. The hiking distance of about 5km to the summit on the western trail is deceptively short in comparison to a typical hike on Mt Kenya or Mt Kilimanjaro. Don't let that fool you.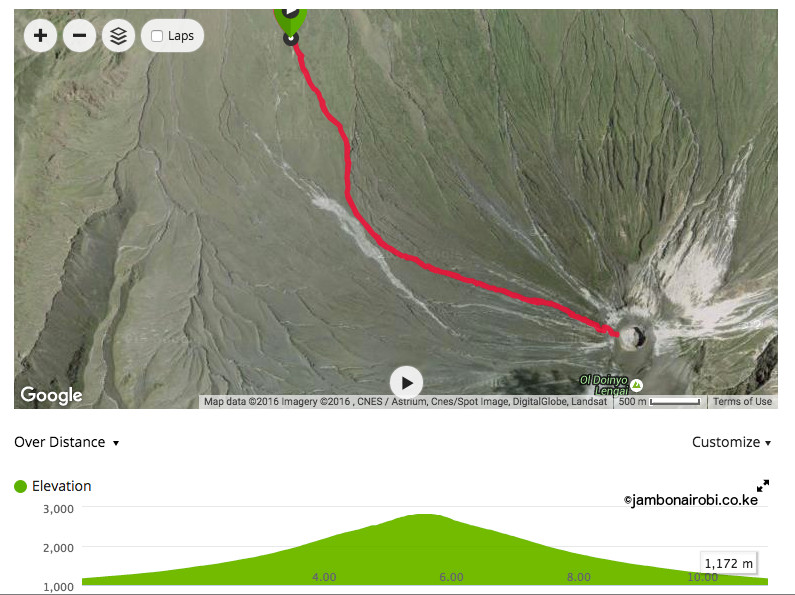 The first 2km of the trail, after excitedly setting off on this tantalizingly dangerous adventure,  traverses grass-covered terrain crisscrossed by small ditches chiseled by mountain streams, at a relatively gentle incline. This soon morphs into an insanely steep climb, with vegetation giving way to bare rocky surfaces. The ditches get deeper, and the surface less stable as you get higher. You soon start testing every footstep and handhold before committing. Your spirits and energy are still high, undaunted by this development.
As you gingerly make your way up, prominent rock formations close to the crater rim, fondly called Golini by the local guides because they resemble goal posts (swahili translation), come into view. Naturally, you start gauging your progress with this landmark.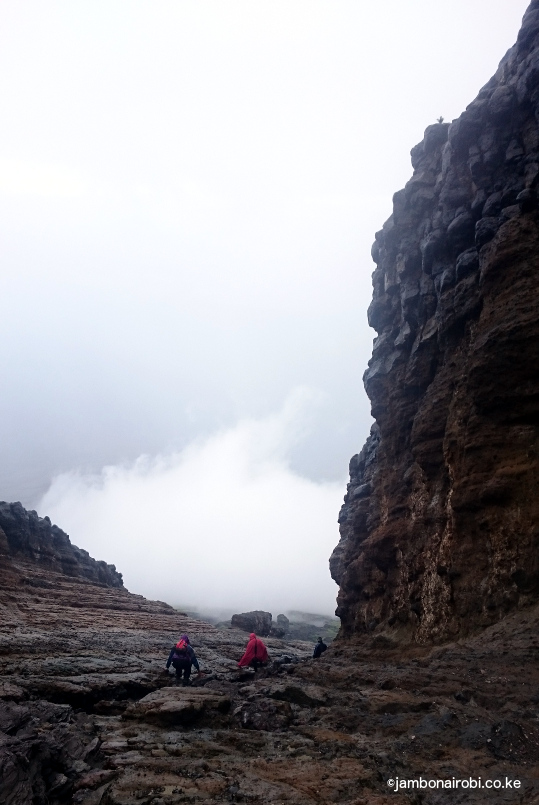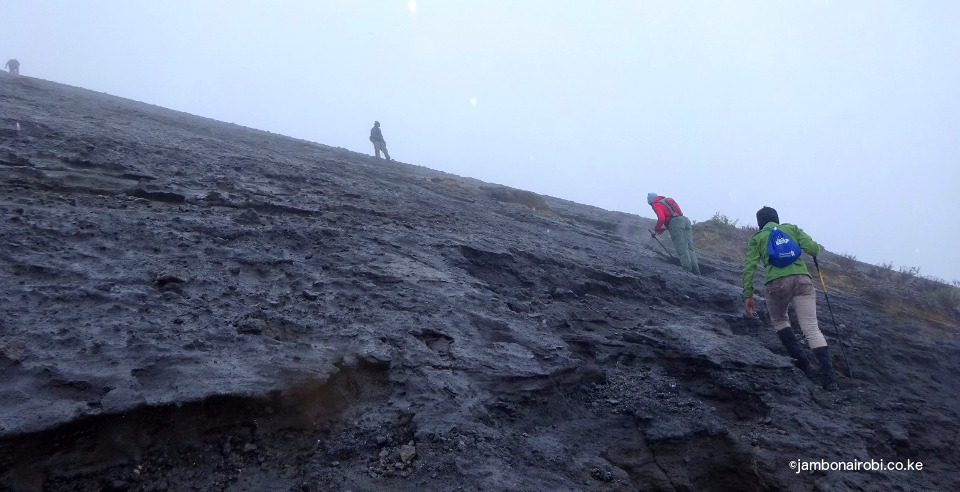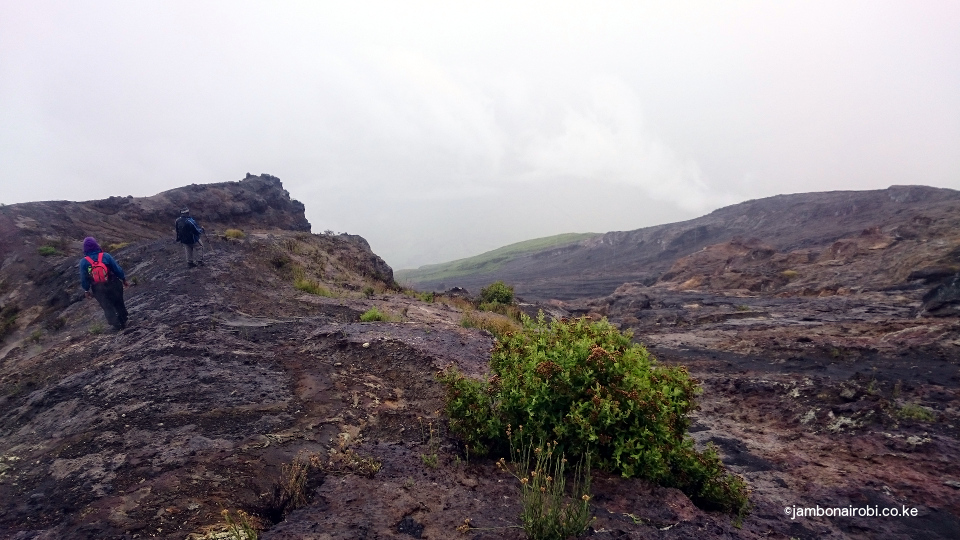 As minutes turn to hours, you get frustrated as Golini, like a tease determined to keep you on edge, keeps her distance. Eventually, you learn to ignore her and keeping trudging up the mountain one step at a time. By this time, you've started using your hands a lot more to scale the ever-steeper incline, and steady yourself when the deceptively rocky surface underfoot crumbles into dust. Appearances are misleading on this mountain. Even the seemingly firm handholds you choose to pull yourself up come off every now and then, leaving you tottering dangerously, questioning what  you got yourself into, or how you'll ever get down this desolate, godforsaken, insanely steep mountain once you reach the top. You notice the smell of sulphur in the air, while your hiking companions notice the change in your mood and vocabulary.
When the gradient finally eases off shortly past Golini, you heave a sigh of relief as you make your way past steaming fumaroles dotting this area up to a long deep fissure in the ground. The sulphurous smell is stronger here, so close to its source. Past the deep crack, you only have to make one last push up a short steep section to get to heaven…eer, the magnificent view of the inactive southern crater, and a wonderfully warm and radiant sunrise, if the weather is clement. You are now standing at 2822m above sea level on the rim of this crater. The world is rosy once again and you've earned your place on top of it. This is where you recall Louis Armstrong's classic What a wonderful world! .
By now, you've probably been on the trail for about 6 hours, gained an elevation of over 1,650m from the trailhead, walked a paltry distance of 5km, and are stretched to your limit of physical endurance. For those  you who still have energy to continue, the summit is on the northern crater rim to your right, with a further elevation gain of 70m after negotiating another insane climb that literally requires scrambling on all fours. For the record, the author did not attempt this last section.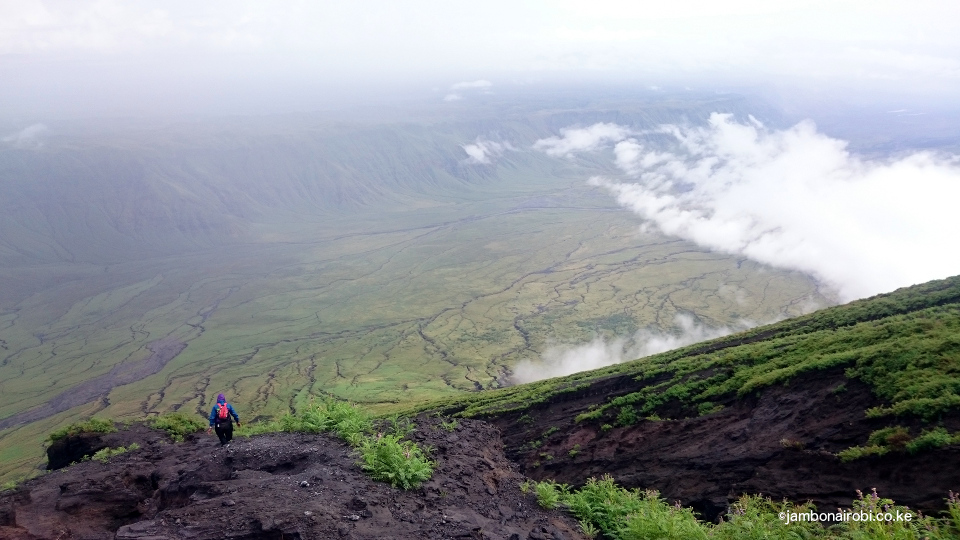 Be prepared to tackle the descent on your bottom in some stretches, and possibly shredding your pants in the process, as you retrace your steps down the mountain. This will take you about the same duration as going up.
Getting There
You'll need a 4WD vehicle to access this part of Northern Tanzania. Drive 110km on the tarmac road from Arusha to Mto wa Mbu near Lake Manyara. Then turn right onto a dirt road going through Engaruka to Engare Sero Village close to Lake Natron, about 110km from Mto wa Mbu. Total travel time from Arusha on this route is about 5hrs.
Alternatively, go past Mto wa Mbu to Karatu, then turn right into the Ngorongoro Conservation Area (NCA) and past Empakaai Crater to Naiyobi Village, the furthest a 4WD vehicle can go. This is also a 5hr drive. From Naiyobi, it's a 2hr hike to Acacia camp, and another 3hr hike to the campsites near Engare Sero Village near Lake Natron.
Accommodation
World View Campsite $10 PP, if you bring your own tent. Other options are available in the vicinity, including a tented campsite and cottages.
Guide and Cook
An excellent guide for this climb is Philip (+255 785 700013) from a Maasai Village near Mto wa Mbu. He'll also serve as your intermediary with the Maasai elders when negotiating and settling payments for porters, camping, climbing Lengai, and other activities.
If you are going as a group and need to hire a cook, a versatile, experienced bush cook I would recommend is Yusuf (+255 762 570726) from Arusha.
Access Requirements
Toll charges
Engaruka Gate $10 PP (per person)
Longido Gate $10 PP
Engare Sero Gate $15 PP
Activities fee
Waterfalls, Lake Natron, footprint viewing – $20 PP
Lengai Climbing fee – $100 ($80 PP if in a group).