Kisumu World AIDS Marathon
Summary
| | |
| --- | --- |
| Organizer | Richard M. Brodsky Foundation |
| When | Annually in December |
| Where | Kisumu, Kenya |
| Distance | Full Marathon (42.2km), Half Marathon (21.1km), relay, and handicapped athletes run. |
| Type | Road race |
| Duration | 2-5 hours |
| Difficulty | Moderate |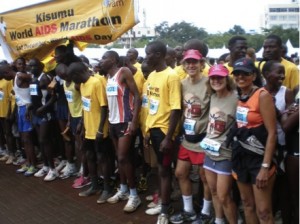 The 8th annual Kisumu World AIDS Marathon will be held on World AIDS Day, December 1, 2013. The entry fee is Ksh100 for Kenyans, and US$120 for foreigners. T-shirts are generally limited and are given out on a first-come first serve basis on World AIDS Day at Jomo Kenyatta Sports Stadium. Registration details will follow. The Event starts and finishes at Jomo Kenyatta Sports Stadium, 6 AM, in Kisumu, Kenya. Prize money is given to multiple place finishers for the marathon, half marathon, relay and handicapped athletes and the total prize money is $1,000.
For anyone paying the full registration fee, they will be invited to attend two orphan dinner dances. For 2012, 900 orphans were served dinner at 2 orphan dinner dances that were held at Bonyo's Kenya Mission and Hope Initiative. 80 orphans were also examined by Dr. Richard L. Sartori, an American pediatrician. We are always seeking doctors to examine the orphans at festive orphan dinner dances and then run the World AIDS Marathon, half marathon or shorter relay distances. Round trip transportation from the Imperial Hotel to the orphanages will be provided.
The reason the run only costs Ksh100 is because I am a HIV and brain cancer survivor and run marathons, and I credit running and having affordable access to doctors and medicine for being alive today. The Richard M. Brodsky Foundation seeks to raise awareness of the challenges Africa faces due to poverty; malaria; hunger; tuberculosis; not enough clean drinking water; lack of education; and the need for affordable, easily accessible medicine and health care. For more information, visit www.worldaidsmarathon.com. Mama Sarah, US President Barack Obama's Kenyan Grandmother, has been involved with the Event since 2008.
For more information contact me, Richard Brodsky at richardm.brodsky@gmail.com
Other Running Events in Kenya
[catlist id=12 numberposts=0 excludeposts=2139]