Kitengela Glass
A trip to Kitengela Glass takes you through a rough, bumpy road across scrubby terrain, with a panoramic view of the distant Nairobi cityscape across the Nairobi National Park. When you get there, the stark contrast between the surrounding area and the enchanting fantasy world at Kitengela Glass astounds you, as you go past giant misshapen statues and mosaic animals dotting their grounds. Everything from the raging furnaces, psychedelic buildings with dome-shaped earth red rooftops, mosaic-covered pathways and benches, to the assortment of domestic animals freely roaming or grazing around, make you feel like you've stumbled into Antonio Gaudi's mind. This wacky tapestry of nature and art was created by Nani Croze, a Dutch Artist who settled here in the 1970's after falling in love with the surroundings.
The galleries at Kitengela Glass are filled with a delightful assortment of mosaic artworks made using broken pieces of glass, ceramic tiles and bottle tops. Other items include magnificently colourful chandeliers, decorated mirror frames, misshapen bottles, glass wind chimes, exquisite beadworks, glass lampshades, kitchen glassware, and a countless other items. Aside from off-the shelf items, Kitengela Glass also takes commissions to construct Dalle de Verre furniture, panels and sculptures. Their mosaic works, chandeliers and stained glass windows grace several Hotels and Buildings in Kenya, including a 12m high mosaic wall at the Laico Regency Hotel in Nairobi, and a mosaic outdoor garden and a colourful 4mx5m glass wall at the Nairobi National Museum.
Anselm Croze, Nani's son and proprietor of Kitengela Hot Glass, was behind the building of the large red-brick dome dominating the grounds, which houses a number of furnaces used for melting recycled glass that ends up being shaped into the glass art and products in the gallery. If you visit on a Saturday morning before noon, you'll be treated to a show of the glass blowing process used to make the kitchenware and other items. You can also get a tour of the other workshops and see how they make Dalle de Verre furniture and other items.
One of the numerous mosaic pathways leads to a bouncy, swaying suspension bridge above a deep river valley, which links Kitengela Glass to Silole Sanctuary. The experience of crossing this bridge may not appeal to all, but for those with an adventurous spirit, across the bridge awaits the neighbouring Maasai Lodge where you can have a meal, drinks, and enjoy other amenities and interesting activities. Interestingly, the restaurant at Maasai Lodge features one of Anselm's brilliant Chandelier designs as its centrepiece.
Getting There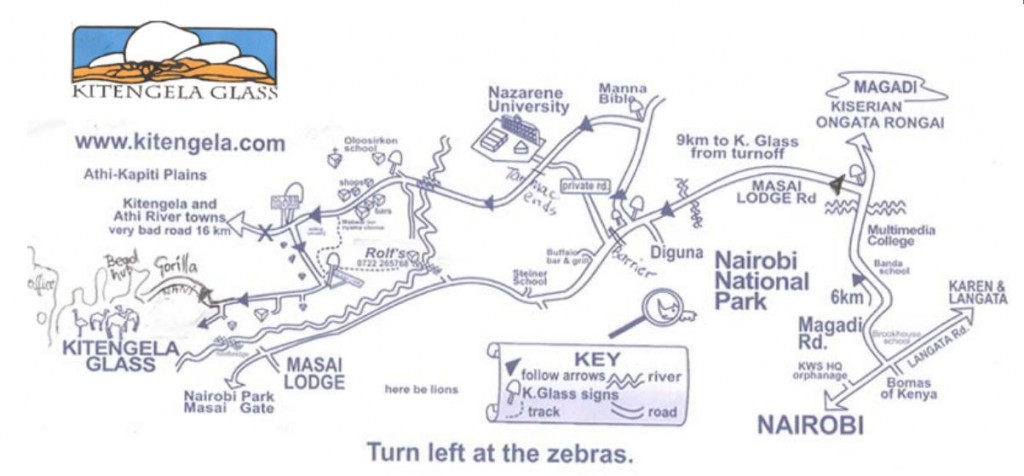 From the city centre, take Uhuru Highway and turn right onto Langata Road at Nyayo Stadium. Drive till Bomas of Kenya and turn left onto Magadi Road. Just before getting to Ongata Rongai, turn left onto the road leading to Africa Nazarene University, and follow the Kitengela Glass signs. Tarmac surface ends at the University, where the road turns into a rough bumpy ride all the way to Kitengela Glass.
Note: Kitengela Glass and Kitengela Hot Glass are separate ventures operated by Nani and Anselm Croze respectively. They have separate workshops, furnaces, and galleries, but share the grounds. For further details, visit their respective websites.