Nairobi Marathon
Summary
| | |
| --- | --- |
| Organizer | Standard Chartered Bank of Kenya |
| When | Annually in October |
| Where | Kenya Railways Golf Club, Nairobi |
| Distance | 42km, 21km, 10km and 5km |
| Type | Road Race |
| Duration | 3-5 hours |
| Difficulty | Moderate |
The Stanchart Nairobi Marathon, held annually towards the end of October, includes 42km full marathon, 21km half marathon, and 10km road races through the city streets.
The route course has been changed numerous times over the years, with the most current 42km course now traversing various streets in the CBD before ascending up to Museum Hill and a portion of Parklands area, then doubling back to Uhuru Highway and Mombasa Rd.
The first 21km of the course from Nyayo Stadium, which is also the Half Marathon route, has some gentle inclines up Museum Hill and Parklands, then drops as one returns back to Nyayo Stadium.
The second half is relatively flat as the course makes its way down Mombasa Rd in two loops.


The cumulative elevation gain along the complete course is about 250m, with altitude ranging between 1630 and 1695m above sea level as illustrated in the above course profile.
This event as grown over the years to become the most popular running event in Kenya, with participation rising from only 5000 runners in its inaugural event in 2003, to over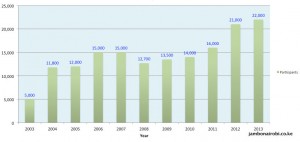 22,000 runners in 2013. This is an impressive number, considering that running is not a popular pastime in Kenya; don't be fooled by the numerous world class Kenyan runners who've been dominating middle and long distance world races since the 1960s.
Compared to other racing events in Kenya and East Africa, for example Lewa Marathon, Ndakaini Half Marathon, Kilimanjaro Marathon and Kampala Marathon among others, the Nairobi Marathon has the least elevation gain making it a fast course for the elite runners and the easiest for recreational runners.