Maasai Country Trekking, Kibiko Osupukuo Dikiro
Summary
| | |
| --- | --- |
| Distance from Nairobi | 30km |
| Starting Point | Savannah Sunset Resort |
| Ending point | Savannah Sunset Resort |
| Walking Duration | 9 hours |
| Terrain | Rocky trails over dry land bushes. |
| Difficulty | Moderate |
The dramatic topography of the Maasai country between Kibiko on the edge of the Ngong Hills, through Osupukuo and Dikiro Valley makes this area very attractive for hiking. The earth movements and displacements that formed the Great Rift Valley left in their wake a series of interesting fault scarps running in a north-south direction in this territory.
Route Description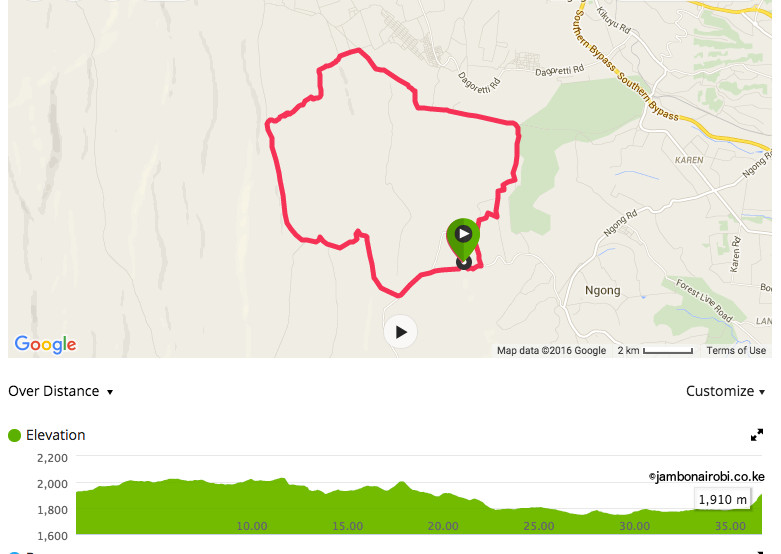 This is a 35km hike over picturesque rocky terrain, with an elevation gain of over 600m on the eastern edge of the Great Rift Valley. The trail starts from Kibiko B at the foothills of the Ngong Hills, heading northwards along the western edge of the Ngong Forest Reserve for 8km. It then turns westwards onto the oil pipeline route, the demarcation between Kajiado and Kiambu counties. The stark contrast between the leafy Kiambu farmlands and the open Maasai country grasslands of Kajiado is as clear as night and day.
As you continue on this trail, leaving Kibiko behind and entering Osupukuo, you'll encounter the first fault scarp after about 3km. The trail suddenly drops about 40m to a plateau, only to drop again and again in a series of giant steps, before climbing up a ridge separating Osupukuo from Dikiro Valley. Sand dams have been constructed to counter soil erosion on some of the gullies that carry storm water down these cliff drops. From the crests, you get magnificent views of these fault scarps running parallel to each other. Mt Suswa can also be seen in the distance.
The gentle descent into the Dikiro Valley heads in the general direction of a high voltage transmission line that is under construction between Isinya and Suswa centres, both within Maasai country. Shortly after passing this power line, you'll encounter a southbound motorable track heading back to Kibiko. Along this track, you'll go past long cliff faces that look ideal for rock climbing, and then pass Kimuka trading centre on the Ngong Circular route. Kibiko, the starting point, is a short 3km distance further on.
Getting There
If using public means, take Matatu number 111 from the City Centre and alight at Ngong Town. From there, you can use Boda Bodas to get to the Savannah Sunset Resort, the starting point for this hike.
If driving, get onto Haile Selassie Avenue or Valley Road and turn onto Ngong Road at the City Mortuary. Go past Dagoretti Corner and Karen till you get to Ngong town. Turn to your right and 100m on, take another right turn onto Kibiko road. Drive till the end of the tarmac road and keep going straight for another 3km to the signposted Savannah Sunset Resort on the left of the road.
Guide
Emmanuel Kaimarish   +254 704 866745