Kencom Bus Stage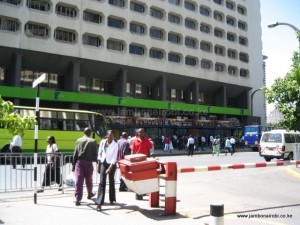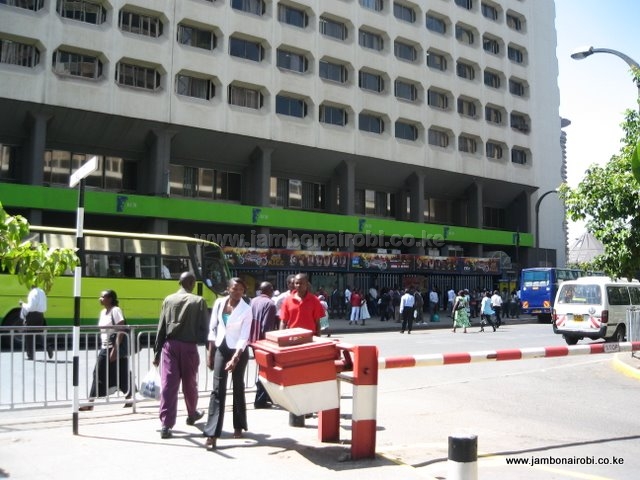 The Kencom Bus Stage, situated on City Hall Way outside Kencom House and opposite Hilton Hotel, is one of the oldest city centre termini for buses heading to the western suburbs of Nairobi. The Nairobi City Council is ambivalent on the question of keeping this terminus open, despite the lack of an alternative location for these buses. As a result, they  filled up the lay-by and made it part of the curb. The bus stage however is still in use.
Due to limited capacity at this bus stage, you'll often find the queue of buses going back all the way to Haile Selassie Avenue at the August 7th Memorial Park.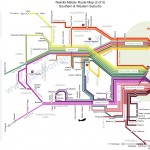 The Route Map to the left, and the table below describe the bus routes you can get at this Bus Stage. You can also get to the destinations indicated here using matatus from the Nairobi Railway Station.
Bus Routes
| Route | Destination | Route Description |
| --- | --- | --- |
| 4W | Riruta Satellite | Kenyatta Ave, Community, Kenyatta Hospital, Ngong Rd, Adams Arcade, Woodley, Jamhuri, Dagoretti Corner, Riruta Satellite |
| 5 | Jamhuri Estate | Kenyatta Ave, Serena, Community, Kenyatta Hospital, Ngong Rd, Adams Arcade, Woodley, Jamhuri Estate |
| 7C | Kenyatta National Hospital | Kenyatta Ave, Serena, Community, Upper Hill, Kenyatta National Hospital |
| 8 | Kibera (via Ngong Rd) | Kenyatta Avenue, Serena, Community, Kenyatta Hospital, Ngong Rd, Mugo Kibiru Rd, Kibera Drive, Kibera Ayany Estate |
| 24 | Karen | Haile Selassie Avenue, Ngong Rd, Adams Arcade, Woodley, Jamhuri, Dagoretti Corner, Karen, Hardy |
| 32 | Kibera (via Argwings Kodhek Rd) | Kenyatta Avenue, Serena, Panafric, Valley Road, Argwings Kodhek Road, Hurligham, Kilimani, Yaya Centre, Ring Road Kilimani, Adams Arcade, Kibera Drive, Kibera Ayany Estate |
| 40 | Ngummo Estate | Kenyatta Avenue, Serena, Community, Ngong Road, Kenyatta Hospital, Mbagathi Road, Kenyatta Market, Ngummo Estate |
| 46 | Kawangware | Kenyatta Avenue, Serena, Panafric, Valley Road, Argwings Kodhek Road, Hurlingham, Kilimani, Yaya Centre, Korosho Road, Gitanga Road, Kawangware |