Oloolua Nature Trail
Hidden away in the up market suburb of Karen is 250 hectares of the indigenous tropical dry Oloolua forest that is home to the Institute of Primate Research (IPR). The National Museums of Kenya, the institution that runs this bio-medical research facility, established the 5km long Oloolua Nature Trail in part of this forest, providing an oasis of tranquility for city residents looking to escape the city hustle and bustle.
The Oloolua Nature Trail is a favourite with visitors coming to do a short hike, to jog along the trail, to walk their dogs, or just for a relaxing picnic in this serene setting. Organized groups also come to learn about environmental conservation through guided tours in the forest.
Attractions
The Oloolua nature trail meanders through thick forest vines and undergrowth below giant indigenous trees and bushes, in some places following the course of the Mbagathi River that cuts through the forest. Giant riverside bamboo stands beckon you to descend some rickety stairs to the river and rest on benches built under the bamboo. Trickling water and chirping birds, the only sounds you hear as you rest, lull you into a reflective mood.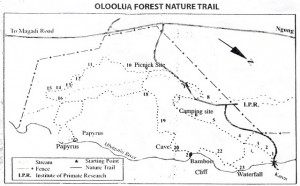 Further along the trail close to the river, you encounter a 33m long cave. If you brought a flashlight with you, an exploration of this dark subterranean world takes you through numerous underground caverns reputed to have once been home to Mau Mau freedom fighters during the colonial period of Kenya's History. A thick pile of guano underfoot and the occasional disturbance of bats flitting past you bring to your attention the existence of a bat colony within.
A papyrus swamp further down the river offers a further glimpse into the rich biodiversity of this indigenous forest. From here on, the trail climbs out of the river valley, occasional bursting upon glades bathed in bright sunlight before diving back under the canopy of the cool forest cover.
A picnic site complete with benches, drop toilets and trash bins offers a nice setting for couples or groups to rest, play or enjoy a meal within the forest. For those wishing to spend more than a day in the forest, a secure campsite is also available complete with tap water, drop toilets, and firewood for lighting a bonfire. You'll have to bring your own tent, food and cooking utensils though.
Last and perhaps the most spectacular of the attractions in the forest is a 20-foot waterfall close to the forest entrance. As you pick your way along the trail to the waterfall, you'll go past a wooden tower that was constructed some years back for viewing a Crowned Eagle's nest that was situated nearby.  Scientists used this tower to study the Crowned Eagle's behaviour in its natural habitat. Sadly, human activities and settlements close to the forest have resulted in the birds migrating from this haven.
Getting There
Oloolua Nature Trail is situated 20km from the city centre in the Karen suburb. If using public means, take matatu number 24 or bus number 24 from the city centre, and alight at the junction of Bogani Road and Karen Road near Karen Blixen Museum. Oloolua Nature Trail is 600 meters to your left.
If driving, take Uhuru Highway till Nyayo Stadium, then turn right onto Langata Road and drive past Bomas of Kenya till the junction to Hardy. Turn left onto Langata South Road, then right onto Bogani Road. Drive till the junction between Bogani and Karen Road, then turn left. Oloolua Nature Trail is 600 meters from this junction.
Visiting Hours
Mondays – Fridays:                 9:00am – 6:00pm
Weekends/Public Holidays:   9:00am – 6:00pm
Entry Requirements
Citizens/Students – Ksh 200 (Children – Ksh 100)
Residents –               Ksh 400 (Children – Ksh 200)
Non-Residents –      Ksh 600 (Children – Ksh 300)
Camping per night
To camp here, you need to make advance booking through Lucy on 0716-256771. You also need to bring your own tent. Charges are:
Citizens  –             Ksh 2,000 (Children – Ksh 1000)
.                –             Ksh 5,000 per group of ten (10)
Residents –           Ksh 2,500 (Children – Ksh 1,500)
.                   –           Ksh 6,000 per group of ten (10)
Non-Residents –  Ksh 3,000 (Children – Ksh 1,500)
.                           –  Ksh 8,000 per group of ten (10)
Team Building
1-20 people,           Ksh 10,000
20 – 50 people,     Ksh 20,000
50 – 100 people,   Ksh 30,000
Other Activities
Church service,              Ksh 50,000
Corporate  function,     Ksh 80,000
Commercial function,  Ksh 50,000
Birthday party,              Ksh 10,000
Chama meeting,            Ksh 15,000
Wedding Reception,     Ksh 40,000
Garden Wedding,         Ksh 50,000
For more information on the Oloolua Nature Trail, visit the Institute of Primate Research website, or contact Lucy  on 0716-256771 or her colleague on 0724338292.