Ngara Matatu Station
The Ngara Matatu Stage at the junction of Muranga Road and Limuru Road is the terminus for matatus heading to some of the Northern suburbs of Nairobi along Thika Road. Formally these matatus where based at the Globe Cinema roundabout before construction of the new Thika Highway commenced.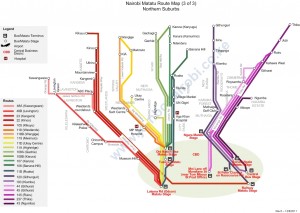 The table below shows the route numbers and route descriptions for the destinations served by matatus at this station. These are also shown graphically on the route map on the left.
Matatu Routes
| Route | Destination | Route Description |
| --- | --- | --- |
| 25 | Baba Ndogo | Muranga Rd, Pangani, Muthaiga, Thika Rd, Ruaraka, GSU, Outer Ring Rd, Baba Ndogo |
| 29/30 | Mathare North | Muranga Rd, Pangani, Muthaiga, Thika Rd, KCA, Mathare North |
| 42 | Dandora | Muranga Rd, Pangani, Muthaiga, Thika Rd, Ruaraka, GSU, Outer Ring Rd, Kariobangi Roundabout, Dandora |
| 44 | Githurai | Muranga Rd, Pangani, Muthaiga, Thika Rd, Ruaraka, Roysambu, Kamiti Rd, Githurai |
| 45 | Githurai | Muranga Rd, Pangani, Muthaiga, Thika Rd, Ruaraka, Roysambu, Githurai |
| 45 | Kahawa West | Muranga Rd, Pangani, Muthaiga, Thika Rd, Ruaraka, Roysambu, Githurai , Kahawa West |
| 46 | Kenyatta University | Muranga Rd, Pangani, Muthaiga, Thika Rd, Ruaraka, Roysambu, Githurai , Kahawa West, Kenyatta University |