Nairobi Railway Station
The Nairobi Railway Station , situated off  Haile Selassie Avenue and Moi Avenue roundabout, is the hub for all commuter train services in Nairobi and passenger train services to Mombasa and Kisumu. It's also the matatu terminus for matatus heading to most of the western suburbs of Nairobi.
The matatu station outside the Nairobi railway Station is an open air bus stage with sheltered benches for passengers. Unfortunately, it has a limited capacity for the large numbers of matatus plying these routes, resulting in a chaotic atmosphere as matatu operators constantly jostle for parking space, and tout for passengers.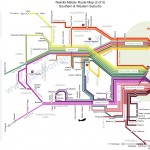 The route map to the left and the table below describe the matatu routes you can get at this stage. You can also get to some of these destinations by bus from either the Kencom Bus stage or Ambassador Bus Stage.
Matatu Routes
| Route | Destination | Route Description |
| --- | --- | --- |
| 1 | Dagoretti Market via Karen | Haile Selassie Ave, Kenyatta Hospital, Ngong Rd, Adams Arcade, Woodley, Jamhuri, Dagoretti Corner, Karen, Dagoretti Market |
| 2 | Dagoretti Market via Waithaka | Haile Selassie Ave, Kenyatta Hospital, Ngong Rd, Adams Arcade, Woodley, Jamhuri, Dagoretti Corner, Waithaka, Dagoretti Market |
| 3 | Kinoo | Haile Selassie Ave, Kenyatta Hospital, Ngong Rd, Adams Arcade, Woodley, Jamhuri, Dagoretti Corner, Kabete Dukas, Kinoo |
| 4 | Riruta Satellite | Haile Selassie Ave, Kenyatta Hospital, Ngong Rd, Adams Arcade, Woodley, Jamhuri, Dagoretti Corner, Riruta Satellite |
| 5 | Jamhuri | Haile Selassie Ave, Kenyatta Hospital, Ngong Rd, Adams Arcade, Woodley, Jamhuri Estate |
| 8 | Kibera | Haile Selassie Ave, Kenyatta Hospital, Ngong Rd, Mugo Kibiru Rd, Kibera Drive, Kibera Ayany Estate |
| 24 | Karen | Haile Selassie Avenue, Uhuru Highway, Nyayo Stadium Roundabout, Langata Road, Madaraka, Bomas of Kenya, Langata South Road, Hardy, Bogani Road, Karen Blixen Museum, Karen Road, Karen Country Club, Langata Road, Karen Shopping Centre |
| 46 | Kawangware | Haile Selassie Avenue, Uhuru Highway, Serena, Panafric, Valley Road, Argwings Kodhek Road, Hurlingham, Kilimani, Yaya Centre, Korosho Road, Gitanga Road, Kawangware |
| 105 | Kikuyu | Westlands, Waiyaki Way, Kangemi, Uthiru, Gitaru, Kikuyu |
| 110 | Kitengela | Haile Selassie Avenue, Uhuru Highway, Nyayo Stadium, Mombasa Road, City Cabanas, Mlolongo, Athi River, Kitengela |
| 111 | Ngong Town | Haile Selassie Ave, Kenyatta Hospital, Ngong Rd, Adam's Arcade, Dagoretti Corner, Karen, Ngong Town |
| 120 | Githunguri | Pangani, Muranga Rd, Muthaiga Roundabout, Kiambu Rd, Kiambu, Githunguri |
| 126 | Kiserian | Haile Selassie Avenue, Uhuru Highway, Nyayo Stadium Roundabout, Langata Road, Madaraka, Wilson Airport, Lang'ata, Bomas of Kenya, Magadi Rd, Ongata Rongai, Kiserian |