Kenya National Archives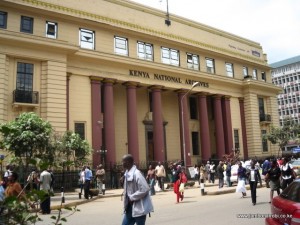 When you step through the Kenya National Archives entrance, you are pleasantly surprised at the exhibition that greets you at the Murumbi Gallery on the ground floor. It is not what you would expect to find in a place whose raison d'être is the care and preservation of all public records and archives in Kenya.
When the late  Joseph Murumbi and his wife Sheila sold their impressive African arts and crafts collection to the Government of Kenya in the 1980's, it was put on display as the main attraction at the Kenya National Archives.The collection takes you on a cultural tour of the African continent, showcasing the traditional implements and crafts used in days gone by in different parts of the continent.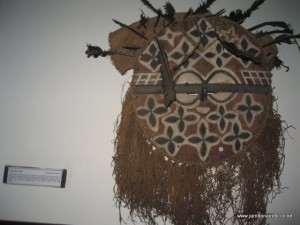 You get to see some of the ancient African art, crafts, and functional items that inspired and influenced some of the world's most celebrated artists like Matisse and Picasso. Masks, weaponry, cowbells, traditional attire, tapestry, furniture, cooking implements, and many other artefacts from the Congo, Ethiopia, Nigeria, Mali, Mauritius, and other parts of this vast continent, are on display. You also get to see the rich diversity of cultures in Kenya, from the intricate coastal Swahili craftmanship, to the Maasai ornaments and utilities that are still in use today.
Aside from the Murumbi Trust exhibition on the ground floor gallery, the Kenya National Archives has a photo exhibition of Kenya's journey from the colonial era to the present day, in their first floor gallery. It highlights key figures in Kenya's struggle for independence, and various events and personalities who played a role in shaping this country. The late Murumbi's large collection of rare African books is also available for review at the Library in the Kenya National Archives.
The Murumbis' final resting place is the public cemetery at the Nairobi City Park in the Parklands area of Nairobi.
Getting there
The Kenya National Archives is situated on Moi Avenue in the Central Business District, right opposite the Nairobi Hilton Hotel.
Entry Requirements
The exhibitions are open to the public at a small fee of Ksh 50 for citizens and residents, and Ksh 200 for non-residents. If you would like to use their library services, they also charge a membership fee of Ksh 200.
For more details on their services you can contact them directly.
Kenya National Archives and Documentation Service
P.O.Box 49210 – 00100 Nairobi, Kenya
Tel:  +254(0)20 2228959
Mobile: +254(0)722 599212
Email: info@kenyarchives.go.ke
Website: http://www.kenyarchives.go.ke/