Savage Wilderness Safaris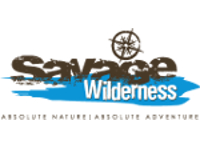 Savage Wilderness Safaris has been providing whitewater rafting trips in Kenya for about twenty years. They were the first company to start this activity on Kenyan rivers and now offer whitewater rafting expeditions on Tana River, Athi River and Mathioya Rivers.
For whitewater rafting on Tana River, Savage Wilderness Safaris will pick you at 7:30am at Sarit Centre in Nairobi. After a 2hrs drive to their base in Sagana, you are greeted with a cup of tea/coffee, after which they take you through a safety briefing with the do's and don'ts on the river. A short drive later, you reach the launching point 7km upstream of the base, where the fun begins. During the rainy season, the launching point is further upstream, 16km from the base.
[album: http://jambonairobi.co.ke/wp-content/plugins/dm-albums/dm-albums.php?currdir=/wp-content/uploads/dm-albums/Savage Wilderness/]
Some exciting places along the river include various rapids like Captains Folly, Can of Worms where you encounter four 90 degree bends in succession, Sphincter Flexor, and the fish eye where you get to surf beneath a small waterfall, or jump into the eye and experience the underwater turbulence for anywhere from 4-8s before surfacing. Other highlights include paddling into a waterfall, and a water slide further downstream. After 4-5hrs of excitement, the trip ends at the base where a barbeque lunch and drinks await you. Two hours later they drop you off at Sarit Centre, the pickup point in Nairobi.
For further details on their activities and booking, access the Savage Wilderness website.