Rowallan Camp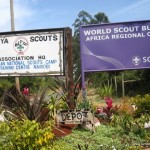 Nairobi would not be the green city in the sun without a campsite in a natural forest setting. The Rowallan Camp along Kibera Drive is one such campsite. Situated adjacent to the Ngong Road Forest Reserve, about 9km from the city centre, this 36 hectare campsite offers a serene setting for nature lovers who wish to sleep under the stars right on the outskirts of the green city.
Facilities provided at Rowallan Camp include water, hot showers, nature trails, firewood for a campfire, a swimming pool, and a cafeteria for those who do not wish to cook. An interesting activity in the neighborhood is a short hike to some caves located in the Ngong Road Forest Reserve. These caves have a very small entrance that requires you to crawl flat on your stomach to enter, and once inside, move around on your hands and knees due to the low roof.  Quite an interesting experience.
The swimming pool is open to the public, and has become a favorite with residents from the neighboring suburbs. It's open every day of the week.
Getting there
Kibera matatus number 8 and 32 from the city centre will drop you at Olympic Estate along Kibera Drive, just 1km from Rowallan Camp.
You could also use Ngong Matatus number 111 from the city centre and alight at the turnoff to the Jamhuri ASK showground. You can then take a boda boda (motorbike) from here to the Camp.
If driving, the easiest route would be Ngong Road, past Adams Arcade, Dagoretti Corner, then turn left at Jamhuri Road and go past Jamhuri ASK Showground onto Kibera Drive.
Charges
The Rowallan Camp belongs to the Kenya Scouts Association. Their charges for use of these facilities are as follows.
Camping fee      Ksh 100 per person per night
Tent (8 man)      Ksh 500 per night (for those without their own tent)
Picnic or hiking    Ksh 100 per person per day
Swimming           Ksh 100
The Kenya Forest Service provides armed escort to the caves and trails within the adjacent Ngong Road Forest Reserve, for a fee. There is no set fee structure, so you have to negotiate with the rangers.
For futher details on the Rowallan Camp, visit the Kenya Scouts Association website.