Kenyatta International Conference Centre (KICC)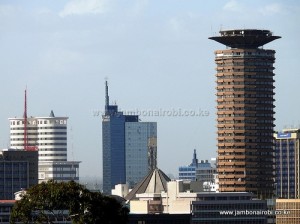 Nairobi has numerous vantage points from which to view the city's skyline. None matches the Kenyatta International Conference Centre (KICC) rooftop in the outstanding views of the city it affords you. This 30-story, 105 meter high building constructed between 1966 and 1973 by the Government of Kenya is the premier conference facility in the East and Central African region.
From the KICC rooftop that also doubles as a helipad, not only do you have a 360 degree view of the central business district, you can see the city limits in all directions. The contrast between building styles and greenery in different suburbs of the city is very evident as you scan the horizon in all directions. You can make out some of the large green spaces like Uhuru Park, Central Park, City Park, Railways Golf Course and Nairobi National Park. You can also see planes landing and taking off from JKIA and Wilson airports. This panoramic view has become a favorite with photographers and film makers who frequently use this location for shooting documentaries commonly aired on local and International television.
The KICC management allows visitors to access the rooftop every day from 9:00am till 8.00pm on weekdays, and till 6.00pm on weekends.
Charges:  Citizens Ksh 150, Residents Ksh 200, Foreigners Ksh 400.
For further information, visit the their website.