Karura Forest Runners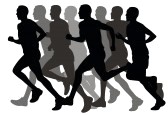 The Karura Forest Runners convenes once a week every Thursday 4:30pm at the KFEET Centre in Karura Forest off Limuru Road, and is open to anyone interested in joining them. Typical runs are 14km to 17km in Karura Forest and the nearby Gigiri and Runda environs.
The Karura Forest is secured with an electric fence and managed by Kenya Forest Service. In addition, Friends of Karura have numbered and signposted all major junctions on the forest trails, and created helpful maps for guiding walkers and runners. The maps include coloured trails for set running distances.
There is a fee of Ksh 200 for entering the forest and parking at the KFEET Centre, when you go to run with this group.