Mountain Club of Kenya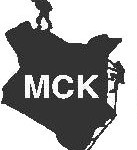 Initially called Mountain Club of East Africa from inception in 1938, this club was reformed in 1949 with its current name. It's goal is to promote mountaineering in Kenya. While their focus is rock climbing, they also organize hiking trips in the spirit of exploring any and all hills and mountains to be found in the country, and inspiring new hikers into this pastime.
Mountain Club of Kenya published the Guide to Mount Kenya and Kilimanjaro, one of the best resources for climbers wishing to take on these two mountains, and Mountains of Kenya, which describes over 100 mountains and hiking trips in Kenya. You can get a copy of these books in local bookshops or from the MCK clubhouse.
Visit their MCK website , or their alternate site, for more information on their activities, and a very impressive list of mountaineering trips in Kenya. You can also reach them on the email contact MCKenya@gmail.com.