Nature Kenya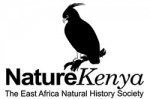 Nature Kenya is an environmental conservation organization with the mission of connecting nature with people. They hope through the pursuit of this mission to build a strong constituency for conservation across Kenya, enhance knowledge of Kenya's biological biodiversity, promote the adoption of policies that are favourable to biodiversity conservation, and conserve key species, sites and habitats in Kenya.
Nature Kenya's activities include organizing hiking trips to places of environment interest. These trips are open to members as well as non-members of Nature Kenya. Other activities include monitoring of species, sites, habitats, and the socio-ecomic conditions of local communities living within and around places identified as Important Bird Areas, IBA.
If you want to be kept abreast of their upcoming hiking events, or any other of their activities, you can access the Nature Kenya website for details on how to join or subscribe to their newsletter. You can also view their calendar of events and trips.