Getting Around Nairobi
Getting around Nairobi can be a challenge due to limited information on the existing public transport system, and the chaotic and reckless behaviour of most public transport operators in the city.
The Nairobi City Centre, an area of about a square kilometer, is largely reserved for commercial activities, while a designated Industrial Area stretches from the Nairobi Railway Station in a southeastern direction, covering an area of about 20 square kilometers. Residential areas sprawl round these two hubs of activity as far as 25km outwards, with some of the suburbs spilling into the Counties surrounding Nairobi, i.e. Kiambu, Kajiado and Mavoko. The existing public transport system in Nairobi covers all these destinations, enabling commuters get to their work places in the city centre and Industrial Area.
Available modes of transport in the city include matatus (shared mini-bus taxis), buses, trains, boda bodas (motorbikes), Tuk-tuks (three-wheeled taxis) and regular taxis. Except for train services provided by the government-owned Kenya Railways Corporation, all other modes of transport are operated by private sector investors.
Matatus
Matatus (shared mini-bus taxis)  are the predominant means of getting around Nairobi, since they ply routes that cover nearly all parts of the greater Nairobi suburban sprawl. The small 14-seater Matatus are easily recognizable from the regulation yellow stripe painted front to back on their sides. These used to be the predominant means of getting around Nairobi till 2010. Government regulation was enacted at that time to phase then out with larger Matatus with capacity of 22 and above.
Most matatu routes converge at the city centre. Due to the sheer volume of matatus providing public transport services in the city, and failure by the Nairobi City Council to provide sufficient parking facilities for public transport vehicles, informal matatu stages are to be found on various streets in the city centre.
An unfortunate characteristic of matatus in Nairobi is their unruly and chaotic conduct, which is blamed for the high prevalence of road accidents in Nairobi. This has posed significant challenges for the insurance industry, with a number of insurers who have provided cover for this industry in the past collapsing from the high number of claims. When a matatu heading in one direction has few passengers and they spot many people at a bus stage waiting for transport in the opposite direction, they'll typically drop you off and make a U-turn. If they learn of an ongoing police operation to arrest traffic offenders on their route, or if they encounter an unusually heavy traffic jam, they'll also drop off the passengers in the middle of nowhere and make a U-turn. As a commuter, you are therefore not sure of getting to your destination. They also constantly vary their fare, especially when it rains, when there's a police operation, or during rush hour, leaving commuters unsure of what charge to expect. One is therefore well advised to inquire before boarding them
Buses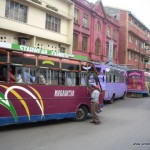 A number of bus companies ply some of the city routes, thus providing an alternative to the matatus.  Bus routes also converge at the city centre, with various termini in the city centre serving as drop off and pickup points for passengers.
The bus companies are just as unruly and unreliable as matatu, with their crew openly disregarding traffic laws and endangering their passengers, and constantly varying their fares. These buses typically have rather beaten up bodies due to frequent accidents. Other discomforts include deafeningly loud music, sermons from preachers, hawkers selling stuff, pickpockets, and armed thugs occasionally carjacking matatus and buses. Beware of strangers offering you food and drinks, or reaching across you from the aisle seat to open the window. Such cases often result in the unwitting victim getting drugged and robbed.
Train
Commuter train service in Nairobi was introduced in the 1980's to address the spiraling cost of travelling by matatus and buses for the urban poor. It is the most cost-effective public transport means in the city, and is available on four lines converging at the Nairobi Railway Station in the city centre, and covering low-income neighborhoods. The trains only operate on weekdays during rush hours, and can get quite congested. Recently, the government converted the Syokimau line to target middle income passengers, through raised fares and more comfort. The other lines are still priced at a lower level for the low income passengers.
Boda boda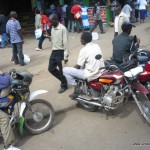 A relatively recent addition to the Nairobi transport system are motorbikes popularly known as boda bodas, which emerged on the scene from around 2003. You'll typically find boda bodas at strategic road junctions in the outskirts, with very few operating in the city centre. They are more expensive that matatus and buses, so most people only use them for short trips to areas not covered by matatus. Their maneuverability through traffic jams makes them ideal when you are in a big hurry to get somewhere.
Safety is a major concern with boda bodas, whose operators don't provide safety helmets for their passengers, and do not follow any traffic rules. In some areas, you'll find two passengers riding on a boda boda, even though they are designed for one passenger only. Getting around Nairobi on these contraptions is therefore very risky
Tuk-tuk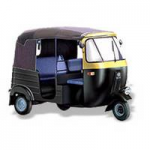 Tuk-tuks are three-wheeled motorbike/taxi hybrids commonly found in Kenya's coastal towns, as well as Nairobi. You'll typically find them in the city centre, where they provide a cheaper alternative to taxis for short trips within the city. Although designed to carry three passengers only, you'll sometimes find four passengers squeezed in these little contraptions.