Camping Stoves in Kenya
Updated 11 March 2021
Portable camping stoves are indispensable for hikers and campers visiting the Aberdares Ranges, Mt Kenya, and Mt Elgon National Parks. Campfires are generally not permitted in these places due to the risk of forest fires. These are backpackers country, where one has to carry their camping stoves, kitchen sets, food and other necessities on their backs for the duration of their hiking trip, ranging from a few days to several weeks.
Weight is a major consideration when choosing camping stoves and all other items you will lug around while backpacking. The availability of the appropriate fuel for your stove here in Kenya is another consideration. Let's not forget that if you are a visitor from another country, no airline will agree to carry compressed gas canisters or any combustible liquid fuel you may try to bring with you. With these factors in mind, let's review the various options of camping stoves available, and which ones you can or cannot use in Kenya.
Most camping stoves fall under two categories, liquid fuel stoves and canister fuel stoves.
Liquid Fuel Stoves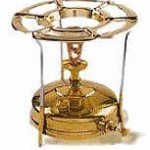 When Sir Edmund Hillary and Sherpa mountaineer Tenzing Norgay made the historic first known ascent on the summit of Mt Everest in 1953, they had a Primus stove, the paraffin pressure stove that has endured the test of time from when it was first developed in 1892. Porters, guides and mountain cooks on Mt Kenya still use pressure stoves to cook for their guests and themselves. However, this stove has been eclipsed by much lighter alternatives that match it in heating capacity, and pack more compactly in your backpack. You would be hard pressed to find a backpacker still toting this contraption around. In any case, they went out of production in the late 1990s.
Petroleum based Liquid fuel camping stoves require pre-heating for a short duration, and priming to get them going. Once fully operational, they get your water to a boil much faster than any other type of camping stoves, will work in sub-zero temperatures, and their fuel (kerosene, petrol etc) is widely available and cheaper than gas canister fuels. On the downside, they make quite a racket, they are heavier than gas stoves, the fuel can be smelly if it spills on your hands or in your bag, and they require field maintenance from time to time to unclog them.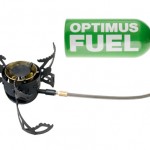 Some of the well established brands include Primus, Optimus and MSR, who make multi-fuel stoves as well as canister fuel stoves.
You'll find Optimus Stoves and their fuel cans at Going Outdoor in Galleria Mall. You can buy fuel for this and other multi-fuel stoves from any Petrol station.
Canister Fuel Stoves
Canister fuel camping stoves burn petroleum gases (Butane, Isobutene, Propane) stored in non-refillable gas canisters. These camping stoves are very light, burn cleanly and more quietly than the liquid fuel types, cook fairly fast, and do not require any maintenance. On the downside, their fuel is more expensive than liquid fuels, they are not as widely available, and the stove's effectiveness diminishes at sub-zero temperatures. In addition, you have to find a way to shield their flame from strong winds, balance the stove on uneven surfaces, and you have to carry exhausted canisters while on a hike until you get to a place where you can safely dispose them.
In the old days, canister camping stoves used to be mounted on puncture type canisters, and had to stay mounted until the gas was exhausted. An example of this is the Campingaz Bleuet 206 stove that uses Campingaz C206 canisters. Lately, these types have fallen out of favour with backpackers.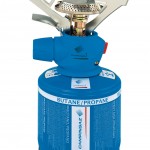 Newer Canister camping stoves use canisters with self-sealing valves that enable you to detach the camping stove from the canister when you are through with cooking, and carry the two separately. This eliminates the risk of gas leaking into your bag while hiking. Unfortunately, most camping stoves and canisters from different manufactures are not compatible. If you own a canister camping stove, you therefore have to find that manufacturer's canisters in the country you are going backpacking.
In Kenya, you'll find Campingaz CV470 Plus and CV270 Plus, as well as Coleman and CADAC gas canisters at Going Outdoor in Galleria Mall.
Alcohol Stoves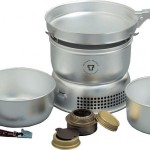 The name Trangia, one of the leading brands in alcohol stoves, is synonymous with stoves that use methylated spirit as fuel. These stoves are very light, have a wind screen shielding their flame from strong winds, and their fuel can be bought practically anywhere you go. They also burn very quietly. Better yet, you can build your own alcohol stove and save the cost of buying one. On the downside, they take long to bring water to a boil, their flame is not adjustable, and since the flame is often invisible, it can accidentally give you a burn as you try to ascertain if it's on. Like the canister stoves, they also don't function well at sub-zero temperatures.
Trangia and Tatonka, one of the other well established brands, often package their alcohol stoves with a lightweight cooking set of pots, pans and a kettle.
You'll find Trangia stoves at RhinoLeisure off Karen Road in the Karen area of Nairobi, and Tatonka Multi set burner and cookware at Xtreme Outdoors in Yaya Centre and Westgate Mall. Methylated spirit is sold in Supermarkets and hardware shops countrywide.
Summary
Camping Stove
Where to buy
Liquid Fuel Stove
Optimus Optifuel:
Fuel: petrol, paraffin, jet fuel, diesel
Weight: 475g


Stove: Going Outdoor
Fuel: Petrol Stations
Canister Fuel Stoves
Campingaz Stoves (several models)
Super Carena Stove
Fuel: Campingaz, Coleman and CADAC canisters


Stove: Going Outdoor
Canisters: Going Outdoor
Alcohol Stove
Trangia 25 series, Tatonka Multi set
Fuel: methylated spirit
Weight: 865g inclusive of cooking set.


Stove: RhinoLeisure, Xtreme Outdoor
Fuel: Supermarkets and Hardware shops