Embakasi Area
Tumaini, Tassia, Pipeline, Avenue Park, and Fedha Estates
These residential Estates, situated along Outer Ring Road between Nairobi River and the North Airport Road roundabout, are part of the greater Embakasi Division in the Eastlands of Nairobi.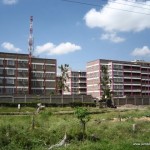 Tumaini Estate is a relatively recent 2000 unit rental housing development built in the  early 2000s by Gerishon Kirima, targeting middle income earners. Typical housing in this Estate is four-story apartment blocks with unfurnished two and three bedroom flats going for a monthly rent of about Ksh 18,000 and Ksh 25,000 respectively. There are tarmac access roads within this estate, a perimeter fence around the estate, and ample parking for residents.
Tassia Phase 1 and Phase 2 are a site and service residential development that was started in the 1990s and still has some plots open or under construction.  The housing consists of a mixture of maisonettes, two-story and three-story apartments with unfurnished two bedroom houses. Although some parts of phase 1 have tarmac access roads, the access roads in phase 2 have murram surfaces and can get pretty muddy during the rainy season. The flats go for a monthly rent of between Ksh 15,000 and Ksh 18,000 per month. Tassia Phase 3 is a more recent residential area that is largely under development, featuring a mixture of maisonettes and three-story flats with unfurnished two bedroom houses that go for a monthly rent of about Ksh 12,000.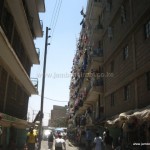 Pipeline consists of the Kenya Pipeline Company Staff Quarters, the oldest housing development in the region, as well as the area behind these quarters with a high proliferation of eight-story flats with single rooms and shared toilet facilities. This high-density area, popularly known as plot 10 targets low income workers from Jomo Kenyatta International Airport and the neighboring industries. Monthly rent per room is about Ksh 3,500. Other types of accommodations to be found in this region include temporary mabati structures, constructed entirely with corrugated iron sheets, that go for a monthly rent of Ksh 1,500 per room. As is characteristic with most high density areas in Nairobi, you will find multitudes of people milling around day and night every day. Life never stops here. Sadly, due to lack of all weather roads, surface water drainage and sewage infrastructure here, the roads and footpaths in the area turn to mud pools during the rainy season, and an unpleasant smell envelops you from the moment you step into the neighborhood.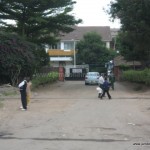 Avenue Park 1 and 2 were built in the early 1990s, targeting upper middle income earners as owner occupiers. The standard three bedroom mansionette design, tarmac access roads, street lighting, trees and green facades add up to a pleasant environment for living in. If you are lucky to find someone willing to rent his out, the house will typically be unfurnished and go for a monthly rent of about Kshs 25,000. The servants quarters are also available for rent for about Ksh 8,000.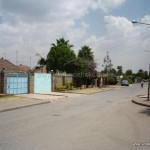 Fedha Estate was built in the early 1990s by East African Building Society, precursor of the current Ecobank, targeting upper middle income earners as well. The houses consist of a standard four bedroom bungalow design on an eighth of an acre plot, with tarmac access roads, street lighting, trees and shrubs lining the roads. The quiet ambience contrasts sharply with the neighboring Pipeline. Most of the houses are owner occupied, but you may find the occasional house up for rent at about Ksh 30,000 per month. The servants quarters go for about Ksh 8,000.
Shopping
These estates are well served by all the large supermarkets with Tuskys located opposite the Coca Cola plant near Embakasi Village,  Nakumatt Embakasi along North Airport Road near City Cabanas, and Uchumi coming up at the Outer Ring Road and North Airport Road roundabout. Other supermarkets include Tumaini at the Pipeline bus stage along Outer Ring Road, and two other similar supermarkets situated inside Plot 10.
Getting There
Matatu number 33 (Pipeline). Tassia Phase 2 and Phase 3 residents alight at the Fedha junction, where they can get boda bodas (motorbikes) to their final destination.
Taxis – these charge between Ksh 700 and Ksh 1,200 from the City centre.
Hospitals
Gertrude's Garden Children's Hospital, Embakasi
Gertrude's Garden Children's Hospital, Donholm
The Wentworth Hospital
Police Station(s)
Embakasi Police Station