Shoeshine Services in Nairobi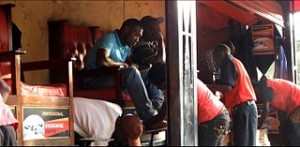 Three rectangular wooden crates, shoe polish, brushes and a few additional paraphernalia was all it took to operate a shoeshine stand in Nairobi's Central Business District (CBD) in the years gone by. These mobile businesses proliferated every street corner and backstreet, providing much needed shoeshine services to office workers and visitors to the City at an affordable cost.
When the NARC government came to power in 2002, they embarked on a mission to purge the city of most informal services, including the shoeshine operations. The needs of the city residents and visitors who depended on these services were overlooked and so for five years thereafter, one had to walk a kilometer or more to get to one of only four shoeshine locations in the CBD. Only two shoeshine stands on the sidewalks of the whole CBD were spared, that is at the Railway Station and Accra Road, while the other two were outside the City Council's jurisdiction inside the Nyayo House compound and Nakumatt Lifestyle building. Perhaps the smart look and branding of these few shoeshine stands by a local shoe polish manufacturer helped convince the city fathers to spare them.
When
Ikotoilets
started sprouting in the city in late 2008, the dire scarcity of this service was mercifully brought to an end. Each Ikotoilet facility came with a shoeshine stand that accommodates between 4 and 8 shoeshine operators. Today, there are over ten Ikotoilet facilties in the CBD,  in addition to the standalone shoeshine stands that survived the purge, so you no longer have to walk more than a few hundred meters to get this service, as indicated in the above map. For only Ksh 30, you can get your shoes cleaned and polished and be on your way. Some of the stands, like Omondi's on Accra Road, even provide shoe repair services, and a place to catch up on the latest politics and football banter.