Public Toilets in Nairobi
For the longest time I can remember, when you needed to visit a washroom  in the City Centre, the available choices were extremely limited, with most distinctly distasteful and dangerous. On the one hand, the public toilets provided by the Nairobi City Council (NCC) were few and far between. When you ventured into one of them, you had to  gingerly wade through a wet slippery floor, struggle to ignore the stench, and had to forgo amenities like toilet paper and running water to clean up  afterwards, not to mention the risk of getting robbed by the goons lurking around them. The other option was to use the facilities in restaurants and bars, some of which were just marginally better than those on the streets. Office buildings were not an option since their facilities are kept locked for security reasons.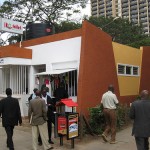 Thanks to the private/public sector Ikotoilet initiative from late 2008, the city has seen the establishment of distinctive, well designed, well maintained public toilets run by a private firm with the blessing of the city fathers. These structures have multiplied rapidly over the last two years to provide this vital service to city residents, workers and visitors at various corners of the city centre, as indicated in the map above. For only Ksh 10, you are provided with toilet paper,  access to a clean toilet, and running tap water for washing your hands. Some of the slums in Nairobi have benefited  from Ikotoilet as well, helping to address the long standing poor sanitation afflicting the urban poor masses, and the attendant health hazards they faced. One can only hope that this service is here to stay, and when time comes for the private partner in this initiative to hand over maintenance of this service to the City Council, we will not travel back in time to the horrid stinky past we thought we had seen the last of.
For more information on the individuals and organizations behind this commendable initiative, visit the following website. www.ecotact.org