Traffic Situation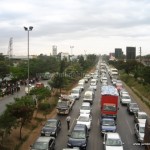 The traffic congestion on our roads in Nairobi has been horrendous for quite a few years now, with typical commute time for people going to work ranging from 1hr to 2hr for distances of 10-15km. Many have responded to this situation by leaving their homes as early as 5.30am to avoid the madness. The majority however get caught up in traffic jams every day, resulting in loss of man-hours, fuel and pollution that costs our economy an estimated Ksh 37 billion annually.
A look at the numbers might shed some light on why we are in this predicament. The population in Nairobi has grown from 350,000 in 1963 to about 3.3 million. The number of vehicles in Nairobi was estimated at over 300,000 in 2008. In the same period, there has been limited increase in the existing road infrastructure capacity.
A 2007 report by the Ministry of Roads and Public Works indicated that although only 15.3% of commuters in Nairobi use private cars, they account for 36% of vehicles on our city roads. Another 29% of commuters use Matatus, which account for 27% of the vehicles on our roads, while a whopping 47% of the city residents walk to their work places, which would be a good thing if distances involved were less than 6km. This unfortunately is not the case, with a significant number of the low-income earners staying in Kayole, Dandora, Roysambu and Kawangware areas, all of which are over 10km from Industrial area. The charts below show these statistics of the distribution of transport modes used by commuters, and the distribution of vehicle types on our roads.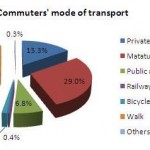 President Mwai Kibaki's administration has done a commendation job of initiating construction of bypass roads that had been shelved for decades, and expansion of some of the busiest roads in the city. It is not clear why Jogoo Road and Outer Ring Road, which have the highest traffic volumes in the city with over 87,000 vehicles per day each, were not given first priority for expansion.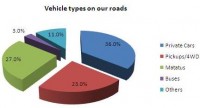 Hopeful the government will turn its attention to these two once Thika Road expansion is completed. The chart below shows the traffic volumes on some of the busiest roads in Nairobi.
As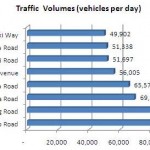 we wait for the road infrastructure in Nairobi to improve, let's try and avoid getting caught in the web of traffic hell by showing more consideration towards other road users. You can also plan your journey to avoid the worst jams by previewing the traffic conditions on various roads in the city before setting off. This has been made possible by traffic cameras on a number of key roads in the city, that are accessible through the Internet link below. If you have a smart phone, you can also monitor these traffic cameras as you drive.
http://traffic.accesskenya.com/
This service is available free of charge, making it a very cost-effective way of staying ahead of the traffic mayhem in Nairobi.