Nairobi Parking Scarcity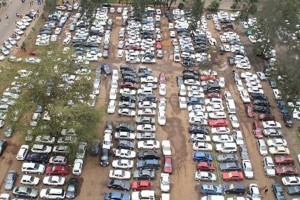 From the Jomo Kenyatta International Airport (JKIA) to the central business district (CBD) and Industrial Area, Nairobi motorists have had to put up with a severe parking shortage for so long that one cannot help but wonder if the Nairobi City County understands the impact this parking scarcity has on the Kenyan economy, and their revenue.
Parking at JKIA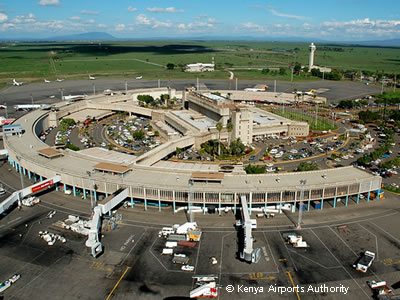 In order to provide some perspective on the parking situation, JKIA alone has many open air parking bays distributed around various Terminal buildings adding up to 1,660 parking slots, and a time-based charging model that makes parking at the Airport quite pricy. While the 750 parking slots at the Cargo Terminal are more than adequate for that location, the 910 parking slots near Passenger Terminals are permanently full, forcing motorists to go round the Airport a few times, as they search for a free spot, or to climb onto the Kerbs. The new Terminal 4 under construction will include a multi-storey car park with capacity for an additional 1,500 parking slots. At best, this will provide a short term solution, but in the medium and long term, there is need for out-of-the-box thinking to come up with a permanent solution. Perhaps the Kenya Airports Authority needs to borrow ideas from other city Airports that have found creative solutions. For example, the innovative valet parking services provided at UK Airports is one solution that could be considered for JKIA. This includes the use of offsite parking facilities, overcoming the issue of space limitations at the Airport. This would require collaboration between public and private sector, and political goodwill from the government.
Parking in the CBD
Looking for parking in Nairobi's CBD is like going through a maze.  A Parking Survey by IBM in 2011 found that motorists on average take 31.7 minutes against a global average of 19.8 minutes to find a vacant parking slot. The CBD has about 9,000 parking slots operated by the County Government. These include 243 parking slots at the Sunken Car Park on Taifa Rd, 220 parking slots at the Law Courts Car Park also on Taifa Rd, and the parking slots on the streets, catering for an estimated 10,000 cars per day passing through the city centre. Each of these two off street County Government Car Parks has a daily turnover of over 700 cars.
Due to the scarcity of parking space in the city, the County Government allows double parking within the off street Car Parks and charges Ksh 400 per day, while those parking on the streets pay Ksh 300 per day. City motorist lament that they are forced to pay an additional amount of between KSh20 and KSh50 to parking boys every day to guarantee the security of their vehicles, since the County Government distances itself from this responsibility. The current rate of Ksh 300 was increased from Ksh 140 in February 2014, and Ksh 70 in November 2008. Prior to that, the city had parking meters that were removed in the late 1990s and a flat rate of Ksh 70 per day introduced.
Those who've lived in this city for over 20 years will recall that there used to be a public Car Park behind Jamia Mosque between Tubman Rd and Kigali Rd, and another one behind Central Bank of Kenya. Both have since been disposed of, and the land developed by their new private owners. The County Government also reconfigured many streets in the CBD that used to have parking slots and turned them into no-parking zones and one-way streets. It is not clear what informed such decisions, but it is evident that the County Government has contributed significantly to the current shortage in parking spaces in the CBD, and will continue to do so if the plans to offset their debts by giving up the Sunken Car Park among other assets sails through.
Below is a list of Car Parks in the CBD operated by the County Government and private organizations. Some of the private ones are seriously underutilized due to prohibitive charges.
Location

Capacity
Ownership
Sunken Car Park
Taifa Rd, open air


243
Nairobi City Council
Law Courts Car Park
Taifa Rd, open air


220
Nairobi City Council
Taifa Rd. Car Park
Near Reinsurance Plaza, open air


Private
Gichamu Lane Car Park
Near Shell/BP Hse, open air


80
Private
KICC Grounds
Parliament Rd, open air


Private
Kenyatta Ave. Car Park
Loita St opp GPO & Kipande Hse, open air


Private
Loita St. Car Park
Behind Laico Regency Hotel, open air


Private
Utalii St. Car Park
Opp Utalii Hse, open air


Private
Intercontinental Hotel
on Parliament Rd., in-building


70
Private
Nakumatt Lifestyle
Monrovia St., in-building


Private
KEMU Towers
Monrovia St., in-building


Private
Industrial Area
Parking in Industrial Area is typical built using block paving by the businesses operating there, with County Government swooping in thereafter to start collecting Ksh 140 parking fees for on street parking. It is unlikely there is any revenue share with the businesses who invest in building the parking areas, so this seems to be one of the numerous forms of indirect taxation borne by businesses in Kenya.  No statistics are available on the number of parking slots in Industrial area, but places like Dar-es-Salaam Road do experience parking shortages similar to those in the CBD.
Shopping Malls
Practically all the Shopping Malls in the outskirts of Nairobi have signed up for parking management services from KAPS, a virtual monopoly in this service sector in Kenya. Typical vehicle turnovers at these Malls ranges from 1,000 to over 3,000 vehicles daily, on account of their retail businesses patronized by short stay customers, unlike office workers who park for the whole day in the CBD Car Parks. Most of the Shopping Malls take advantage of lower traffic volumes on weekdays to host the vibrant Maasai Market once a week on part of their Car Park. Parking charges vary from Mall to Mall, based on its popularity.