Motorbike Gunmen on the loose in Nairobi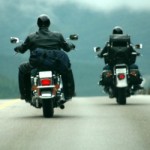 Be alert.
In a city where crime takes different shapes everyday, the monster radio sought out to find out whats really happening in Nairobi.
Over the past few months residents in the up market estates (Kileleshwa, Lavington, Kilimani and Westlands) have been complaining of frequent attacks from armed robbers who are riding on motorbikes. Get this right, not tuk tuk motorbikes but strong heavy CC motorbikes; what we call "Hondaa" in slang.
The police and victims have identified the robbers as two or three young guys who ride on the same bike and are armed and dangerous. They mostly attack female pedestrians but now are also targeting males and motorists too. They are upmarket and are well kept so you may never have the slight idea of whom they really are.
The mastermind in the clique is a skinny dark skin tall guy and the bike rider is chubby and short. The third robber is always in the shadows but is equally dangerous said a female victim whose identity we are withholding for security reasons.
Last night September 13th, they orchestrated six crimes from 7pm to 11pm within Adams arcade, Hurlingham, Jabavu lane which is just outside Kilimani Police station and Brookside, all of which they robbed victims at gun point and seriously hurt them as well.
The robbers take all sorts of valuables i.e, cellphones, watches, rings,gadgets etc and resell them in the black market.Currently the Kilimani area and Kileleshwa police departments are on high alert with police patrols deployed all over the Yaya and Valley Arcade areas.
Question is, is this an organized crime ring in the making? Are these the only motorbike robbers or is motorbike crime the new criminal steez (sic)?
This is an exclusive public service announcement so kindly share it and spread awareness because you might be the next victim. We are also urging anybody with further information to go to the nearest police station and record a statement if necessary so as to help with the investigation and bring these culprits to book.
(Reproduced from http://www.facebook.com/pages/BM-Security/316329225089696?ref=stream)