Bump-And-Rob Attacks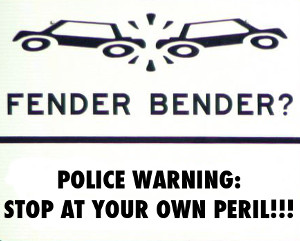 The natural reaction when a vehicle hits your car from  behind is to stop and get out to assess the damage or call the police. However, police now warn motorists to assess the surrounding before stopping, or pull over only at a safe public place.
According to an analysis of the latest crime records, robbers have devised a new way of getting their victims, which police call "bump-and-rob". This is whereby robbers in a  vehicle  hit the rear of their target's car and attack the motorist when he or she stops to assess the damage  and record the vehicle's  information.
On Wednesday, around 5am,  Mr Stanley Nzai, a taxi driver in Mombasa, was taking a German visitor from the Moi International Airport to Mile Rose Apartments in Shanzu, when a car hit his vehicle. He stopped and got out but realised his car was not damaged.  As he was getting back, he was hit twice on the head and he fell unconscious. The attackers drove away with his vehicle with the German visitor identified as Enold Jean Hasert, 68. Later, police found the vehicle and the foreigner abandoned  at Mwakirunge. Mr Hasert was robbed of 5,600 Euros (Sh672,000) and an air ticket. He was injured on both hands.
In a similar incident on Monday night in Nairobi, Mr John Muchina was driving in Industrial Area when his car was hit by another vehicle. He stopped to check the extent of damage and three occupants of the other car, one armed with a pistol, attacked him. They robbed him of two mobile phones and Sh12,000. They took over of his car and later abandoned him in Syokimau in the outskirts of the city. His vehicle has not been recovered.
FENDER BENDER
Similarly, on April 5, at Biafra Estate in Nairobi, Rajab Shibole's car was hit from behind when he slowed down at a bump. He stopped and a series of robberies followed in which  a motorist was fatally shot and   another injured. He was robbed of Sh5,000 and two mobile phones.
When Mr Shibole got out of his car, four men armed with an AK-47 rifle and two pistols confronted and bundled him into his car as two of the gunmen took control of his car, according to Kasarani OCPD Augustine Nthumbi. They used the car to block other vehicles. A motorist who  attempted to drive off was shot. He  lost control of the vehicle and landed in a ditch. Police later found him dead in the driver's seat. The robbers proceeded to Kahawa Road, where they blocked another car. The driver resisted but was shot as he sped off. He was admitted to a hospital.
To reduce the chance of falling a victim on a highway, police advise that motorists should drive in the centre lane. The robbers usually target cars with a driver and at least one passenger, according to police. After bumping and the motorist stops, either the driver or other  attackers pounce. In some cases, they drive away with their victim's car,  if the key is left in the ignition.
Nairobi County Police Commander Benson Kibue advises motorists that if they are hit by another car, they should look around and study the other car through the mirrors. "Do not pull over to the side of the road unless there are many people in the area," he says. "If not, drive away to a populated area."
Police also warn that other criminals are employing a method called "fender bender", where  the attackers slam on the brakes, causing the victim's car behind to run into theirs. If the motorist stops and gets out, he or she  is robbed. "Also be very careful when someone tries to alert you to a problem with your vehicle. You may stop and fall a victim," says  Mr Kibue.
SURVIVAL TIPS
How you can avoid falling victim
1. Be very observant while driving home since some carjackers follow their victim home, only to attack at the gate.
2. Always stay alert. Keep your doors locked and the windows up to increase your safety, and make it more difficult for an attacker to surprise you.
3. If you are driving into a gated community, call ahead to have the gate opened. The longer you take at the gate, the more vulnerable you become.
4. Most attackers are interested only in the vehicle and the valuables in the car. If they need the car, give it up freely.
5. Try to stay calm and non-confrontational since your objective is not to thwart the crime but to survive without injury.
6. Do NOT stare at the attackers. Tell them your intentions  in advance by keeping your hands in view. Do not make quick or sudden movements that the attacker could construe as a counter attack.
7. When driving, it is important to appear confident and in control.  If you appear lost, weak or preoccupied you increase your chances of becoming a victim.
8.  Many carjackings occur at red lights and stop signs.
9. Avoid driving alone, if possible, especially at night.
10. Do not stop if you see a stranger whose car is broken down on the side of the road.
(Reproduced from http://www.nation.co.ke/news/Watch-out-for-the-vehicle-that-hits-yours-from-behind/-/1056/2341582/-/dcxa58/-/index.html)