Eastleigh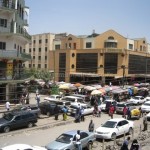 Eastleigh can hardly be described as a residential neighbourhood, following the transformation it's been undergoing over the last twenty years. Having started out in the early 1920s as the designated residential area for Asians and elite Africans at the time, Eastleigh has since evolved into a major commercial hub, a city within a city. It is a magnet for members of the Somali community from every corner of the Horn of Africa, including Ethiopia, Djibouti, thousands displaced from the war torn Somalia, and Kenya's own North Eastern Province. When strolling through the streets of Eastleigh, you would be forgiven for getting the impression you are in the middle of Mogadishu, not Nairobi. Asians and other African populations have gradually migrated out of this area, leaving Somalis as the predominant community in Eastleigh.
The corner of General Waruingi Street and First Avenue Eastleigh was once the location of the headquarters of Kenya Bus Service, complete with a large garage and Bus Park. Today, a large shopping mall has taken its place. A number of the old single-story residential buildings in Section 2 of Eastleigh have been demolished and shopping malls built in their place. An area in section 2 popularly known as Garissa Lodge consists of rows of adjacent 4 to 5-story shopping malls only. Traders and transporters engage in roaring business all day and late into the night in what was once a quite, tranquil residential suburb of Nairobi. This has created employment opportunities for hundreds of refugees and locals, and opened new markets that are reputed to span the whole of East and Central Africa.
Not all things have changed in Eastleigh. The Nairobi City Council has for decades failed to maintain the roads, water drainage, sewage infrastructure, or to provide garbage collection services in Eastleigh, and this situation is still prevailing. As a result, only rocky surfaces and large craters remain where the roads used to be, the area is chocking with plastic bags, mounds of garbage have completely blocked some of the access roads, and swirling dust clouds whipped up by vehicles are a constant part of life here. Large numbers of pedestrians, matatus, handcarts, and Lorries compete for the available roads as they go about their business, creating a perpetual traffic gridlock on First Avenue Eastleigh. When it rains, the situation gets worse, with pedestrians and vehicles having to go through humongous water-filled potholes.
Another thing that hasn't changed much is the housing in Section 1 of Eastleigh, close to Juja Road. Here you will still find a number of the old single-story housing from the colonial era, interspersed with the occasional apartment block built in the 1980s.
The drastic reduction in available rental housing in Eastleigh due to the new shopping malls, has resulted in some rather expensive housing options emerging. Some landlords in section 2 have turned their rental housing units into single rooms, and charge a daily rent of Ksh 1000 without the option of renting per month. You may also get a single room in California going for Ksh 6,500 per month, nearly double the going rate in other Eastland neighbourhoods. All in all, levels of rent in Eastleigh have risen well above what you'll pay in other Eastlands suburbs.
Getting There
Matatu number 6 and 9 from the Central Business District.
Matatu number 17 and 28 from Gikomba.
Hospitals
Pumwani Maternity Hospital
Guru Nanak Hospital, Ngara
Gertrude's Garden Children's Hospital, Pangani
Marie Stopes Clinic, St. Theresa
Police Station(s)
Pangani Police Station
Mathare Police Station
Makongeni police Station