Buruburu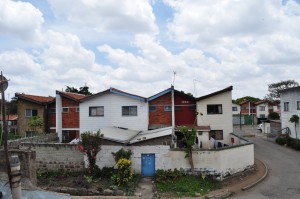 Popularly known as Buru, this Eastlands neighbourhood situated in Makadara Division of Nairobi stretches from Buruburu phase 1 close to Kariobangi South, all the way to phase 5 on Jogoo Road. It was developed in the 1970's and 1980's with financing from the Commonwealth Development Corporation (CDC) as an owner occupier housing project consisting of about 5000 three bedroom single dwelling units.
Buruburu is credited with contributing significantly to the development of Sheng, a popular slang language spoken by most urban youth in Nairobi. The population is multicultural, with foreigners lately moving into this neighborhood. All the major Banks have branches in the extensive Buruburu shopping centre.
While Buruburu remains largely owner occupied, some parts of Buruburu have seen the original orderly white houses with red roofs interspersed with grey looking extension units built for rental purpose. Most of the extensions are unfurnished one bedroom units going for a monthly rent of Ksh 8,000. The open spaces that served as playgrounds have not been spared either, with a number of them now occupied by multi-storey shopping centres and apartment blocks. These apartments typically have unfurnished two bedroom flats going for a monthly rent of about Ksh 12,000.
Buruburu has been spared the proliferation of pubs and churches amongst residential houses, due to its planning. Instead, these structures are concentrated at the shopping centre, making the residential areas relatively noise free and peaceful. Regulation of noise from the pubs at the shopping centre is also enforced for the sake of the adjacent Phase 2 residents.
Shopping
Due to Buruburu's large middle class population, at least two of the major supermarkets i.e. Uchumi and Tuskys, have a branch at Buruburu shopping centre.  Smaller supermarkets serving this neighbourhood include  Mesora with one store in phase 2 and another in phase 1, and Raphael's in Phase 1.
Public Library
The Kenya National Library Service for many years had only one facility at Upper Hill area serving the whole of Nairobi. This changed when in the late 2000s, they opened a branch in Buruburu shopping centre. Hopefully we'll see more branches coming up in other residential neighborhoods in the near future.
Getting There
Taxis – these charge between Ksh 600 and Ksh 1,000 from the City centre.
Hospitals
Metropolitan Hospital
Jamaa Hospital
Gertrude's Garden Children's Hospital, Donholm
Police Station(s)
Buruburu Police Station