Kwea Milele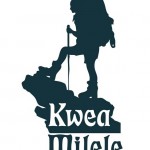 Kwea Milele (Swahili for Ascent Forever) is a premier hiking phenomenon that hit the Nairobian in 2008. Started by 5 friends with a random hike plan to Mount Longonot, Kwea Milele subsequently took hundreds of hikers to numerous hiking destinations in East Africa – Longonot, Menengai, Suswa, the Aberdares, Elephant hill, Olesakut, Loita Hills, Ngong hills, Iveti hills, Oldonyo Orok-Namanga, Hells Gate, Mount Margaret, South Coast, Oldonyo Sabuk, Homa hills-Kendu bay, Kakamega Forest, Ndere Island, Ruma National Park amongst others.
For Kwea Milele hiking is a moment, a feeling, a commitment, an engagement, an individual passion, a fun activity, an outdoor activity, a healthy habit and most of all a means to climb the highest peaks in the world here in East Africa. There are annual climbs to Mount Kenya, Mount Meru and Mount Kilimanjaro since 2010 with close to 100 by Easter holidays of 2013.
With support from a dedicated team that undertakes planning and facilitation via social media, each hike, climb or camping getaway is unique to the participant's experience. Kwea Milele has notably key calendar dates and events like Kimalizio, Kwea Miti Initiative and #Why I Climb, which the team facilitates as a Kwea Responsible Tourism programmes that considers healthy interaction between humans and environment.
Join us in the next hike…..find out #Why I (You) Climb!
Feel free to visit our group page for more details :http://www.facebook.com/groups/kweamembers OR you can call: Hellen Mwariri: 0722 273 345 / Wyclife Adolwa : 0723 317 838 or Maxim Sanchez : 0721 899 928.