Muthurwa Bus Station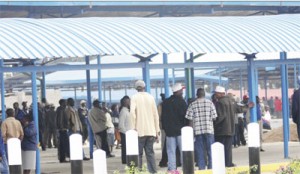 Muthurwa Bus Station is located outside the central business district (CBD) of Nairobi as you go towards City Stadium, and adjacent to Muthurwa Hawkers Market. The Hawkers Market and Bus Station were hived off the 72 acre Muthurwa Estate, one of the oldest residential areas for Kenya Railways workers. This estate has for decades had a reputation for a high crime rate, with many incidents in its past when it was the centre of skirmishes between the Police and youth gangs.
All matatus to the eastern suburbs of Nairobi are required by Government order to operate from Muthurwa Bus Station. Eastlands buses, however, are allowed to get into the CBD. Commuters in the CBD have to walk for 30–40minutes to get to this Bus Station. Although a shuttle bus service was introduced between the CBD and Muthurwa Bus Station, this only added to the transport costs for a people already heavily burdened by the high matatu and bus fares prevailing. As it is, over 47% of the Nairobi population walk over 10km to their work places because they cannot afford the cost of public transport. As a result, matatus operating from Muthurwa Bus Station were experiencing low business levels, and started frequently defying the Government order by sneaking into the CBD where the pickings are much better. A lot of commuters also fear walking to Muthurwa in the evenings due to security concerns, and generally look for any available public transport to Eastlands from within the CBD.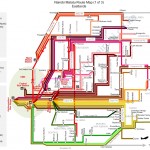 At Muthurwa Bus Station, you will find matatus headed to the destinations listed in the table below.These and all other matatu routes to the Eastlands of Nairobi are shown graphically in the route map to the left.
Matatu Routes
| Route | Destination | Route Description |
| --- | --- | --- |
| 6 | Eastleigh Section 1&2 | Pumwani, Eastleigh, St. Theresa |
| 17B | Kasarani | Jogoo Rd, Donholm roundabout, Outer Ring Rd, Kangundo Rd, Njiru, Mwiki, Kasarani |
| 19/60 | Kayole | Jogoo Road, Donholm roundabout, Outer Ring Rd, Donholm, Savannah, Jacaranda, Kayole, Komarock |
| 23 (Outer Ring) | Outer Ring | Jogoo Road, Makadara, Rabai Road, Jericho, Harambee, Buruburu Phase 1, Outer Ring Estate, Pioneer Estate |
| 33 (Embakasi) | Embakasi Village | Jogoo Road, Donholm roundabout, Outer Ring Rd, Quarry, Tumaini, Tassia, Avenue Park, Fedha, Pipeline, North Airport Rd, KQ Base, Embakasi Village |
| 33 (Pipeline) | Pipeline | Jogoo Road, Donholm roundabout, Outer Ring Rd, Quarry, Tumaini, Tassia, Avenue Park, Fedha, Pipeline |
| 34B | Greenfield | Jogoo Road, Donholm roundabout, Outer Ring Road, Donholm, Savannah, Greenfield |
| 35/60 | Umoja | Jogoo Road, Donholm roundabout, Outer Ring Road, Tena, Mutindwa, Umoja |
| 36 | Dandora | Jogoo Road, Makadara, Rabai Road, Mumias South Road, Buruburu, Outer Ring Estate, Pioneer Estate, Mutarakwa Road, Kariobangi South, Komarock Road, Dandora Phase4 |
| 39 | Ruai | Jogoo Rd, Donholm, Outer Ring Rd, Umoja, Kangundo Rd, Komarock, Njiru, Ruai |
| 58 | Buruburu | Jogoo Road, Makadara, Rabai Road, Mumias South Road, Buruburu Phase 5 till Phase 1 |
| 71/72 | Industrial Area (via Likoni Rd) | City Stadium, Jogoo Rd, Likoni Rd, BAT, Lunga Lunga Rd, Donholm |
| unnmbered | Industrial Area (via Enterprise Rd) | City Stadium, Lusaka Rd, Enterprise Rd, General Motors |