Gikomba Matatu Stage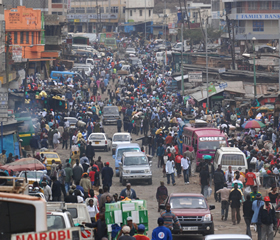 Gikomba Matatu Stage is located outside the central business district on Digo Road in Majengo area of Nairobi. This area is a beehive of activity due to many hardware shops, workshops, textile and upholstery shops, and the huge Gikomba flea market situated here. Wholesale grocery vendors also operate from here, adding to the volume of traffic in this place. The fact that its right in the middle of Majengo slum also contributes to the large numbers of people milling around, engaged in various forms of small businesses.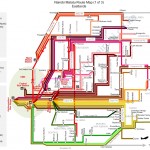 You will find at this terminus matatus headed to the destinations listed in the table below. These routes are also graphically shown in the route map to the left.
Matatu Routes
| Route | Destination | Route Description |
| --- | --- | --- |
| 7 | Kiambiu | Pumwani, California, Section 3, Kiambiu |
| 8B | Jericho | Pumwani, California, Bahati, Jerusalem, Jericho |
| 17 | Kayole | Pumwani, Eastleigh, Juja Rd, Outer Ring Rd, Kangudo Rd, Komarock, Kayole |
| 28 | Kariobangi North | Pumwani, Eastleigh, Juja Rd, Huruma, Kiamaiko, Kariobangi North |
| 30 | Mathare North | Pumwani, Kariokor, Pangani, Juja Rd, Mathare North |