Commuter Train Service in Nairobi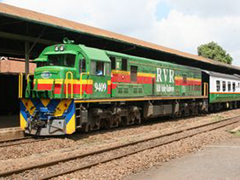 Commuter train services were introduced in Nairobi in the 1980s to provide a low cost public transport alternative to the urban poor in the city, following a crippling economic inflation the country was experiencing at the time. Although the existing railway system in Kenya was built primarily for moving freight, long distance passenger services had been in operation between Nairobi and Mombasa, as well as to Kisumu, since the railway service went into operation in 1903. Its history is well documented at the Nairobi Railway Museum. The Kenya Railways Corporation did not therefore have to acquire any new passenger wagons for the new service.
Service Coverage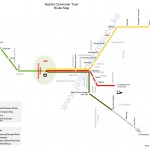 The commuter train service is available on four different lines serving a limited number of areas in the city, including Kibera to the west of the city, Syokimau to the south of the city, and various areas east of the city, as indicated in the train route map on the left. All the lines converge at the Nairobi Railway Station in the city centre, which also serves as one of the major matatu termini in the city. To move from one outskirt to another, one therefore has to change trains at this station.
On average, about 19,000 passengers are transported per day to and from the outskirts through this service, amounting to less that 1% of total daily commuters in the city according to a 2007 report by the Ministry of Roads and Public Works. Due to this limited capacity, the trains carry sitting as well as standing passengers, with some hanging at the doors. On the plus side, getting to the city centre by train is much faster than by road, and more affordable.
Schedules
The commuter trains operate on weekdays during rush hours in the morning and evening as indicated in the schedules below. The service is not available on weekends, public holidays, and during times of the day on weekdays that are not indicated in the schedules below.
Train Departures from Outside Stations to Nairobi
From
To
Hours
Hours
Hours
Hours
Kahawa
Nairobi
05:30
06:18
09:10
17:00
Dandora
Nairobi
05:58
07:40
09:46
Embakasi
Nairobi
05:45

07:17
17:25
Ruiru
Nairobi
05:50
Kikuyu
Nairobi
05:40
Syokimau
Imara
Makadara
Imara
Makadara
Nairobi
06:55 (peak)
07:09 (peak)
07:23 (peak)
09:05 (off peak)
09:19 (off peak)
09:33 (off peak)
18:50 (off peak)
19:04 (off peak)
19:18 (off peak)
Train Departures from Nairobi to Outside Stations
From
To
Hours
Hours
Hours
Nairobi
Kahawa
07:35
15:50
18:20
Nairobi
Dandora
07:05
Nairobi
Embakasi
06:42
16:30
18:05
Nairobi
Ruiru
17:35
Nairobi
Kikuyu
17:40
Nairobi
Makadara
Imara Daima
Makadara
Imara Daima
Syokimau
08:00 (off peak)
08:14 (off peak)
08:28 (off peak)
17:50 (peak)
18:04 (peak)
18:18 (peak)
19:50 (peak)
20:04 (peak)
20:18 (peak)
Charges
This is the most cost-effective public transport system in Nairobi with current fares ranging from a low of Ksh 20 (one way) for Kibera, to a high of Ksh 100 (return) for Syokimau. Other places fall in between.
Bon voyage.