Maasai Market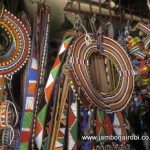 The vibrant Maasai Market in Nairobi, a true festival of colour and form, offers an opportunity for handicraft shoppers to buy some of the rich collection of African arts and crafts at reasonably low prices. It is an open air market that attracts throngs of locals and tourists alike looking for unique handicrafts to adorn  their homes,themselves or as gifts to friends and family.
Colorful kikoys, curios, baskets, beadworks and many other interesting African handicrafts all vie for the customers' eye, with over a hundred traders doing their best to entice you. After making their selections, buyers will often be seen bargaining for a discount, a practice that is standard and expected here.
The venue for the Maasai Market rotates between different shopping centres and other locations, as indicated in the schedule below. The traders spread their wares on the car park of the respective location, and operate from 9.00am in the morning till evening at 6:00pm.
Prices will generally be higher in the shopping malls than at the Law Courts Parking in the Central Business District (CBD).
When and Where?
| | |
| --- | --- |
| Tuesday | Off Kijabe Street, near Text Book Centre |
| | Prestige Plaza, 1st floor Rooftop Parking, Ngong Rd |
| | WestGate Shopping Mall, Westlands. |
| Wednesday | Capital Centre, Mombasa Road. |
| Thursday | The Junction, 3rd floor parking, Ngong Rd. |
| | Garden City Mall |
| Friday | Village Market, Limuru Road. |
| | Galleria Shopping Mall, junction of Langata Rd and Magadi Rd |
| Saturday | Law Courts Parking, City Centre. |
| | Adam's Arcade, Ngong Rd |
| Sunday | Law Courts Parking, City Centre. |
| | Safari Park Hotel, Thika Road. |
| | Yaya Centre, Argwings Kodhek Road. |
| | Adam's Arcade, Ngong Rd |